Discussion Starter
•
#1
•
Several people have asked me about how I converted the throw over bags to bolt on. Since I'm too lazy to take everything off the bike to take pictures, I whipped up a quick CAD model showing how I did it.
I started with an inner panel made from 1/8" thick aluminum, cut to fit the inside shape of the saddle bag. I took my time making this part so it fit the inside of the bag tightly
This rendering shows the relationship of the inner panel to the rest of the parts, including the stock chrome saddle bag support frame.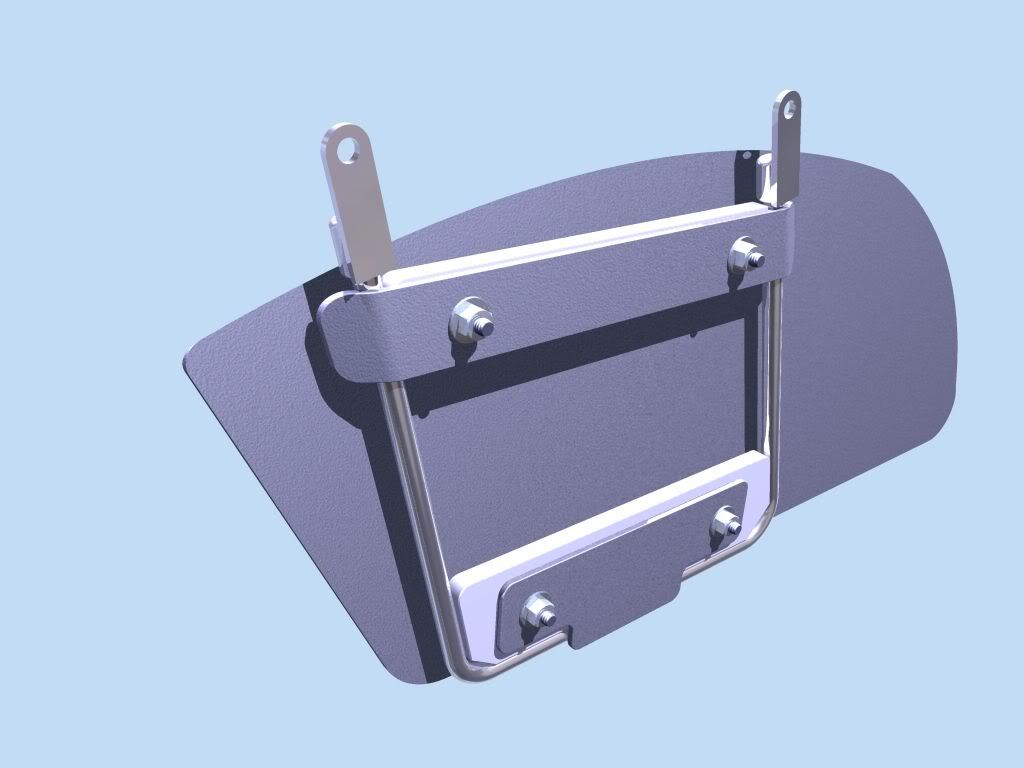 Here the inner panel is installed inside the saddle bag (you can't see it) and ¼-20 hardware is protruding through. Note, the bolts I used are all flat head and the holes drilled in the inner panel are countersunk so there is nothing sticking out inside the saddle bag.
This shows the spacers I cut out of a cheap polyethylene cutting board. I got lucky and found a $3.00 cutting board that was the same 3/8" thickness of the chrome bag support. Both spacers are sized and located such that they fit tight inside the chrome support frame. These serve to locate the bag on the chrome support as well as providing a surface for the clips to be tightened against. There are two counterbores on the top spacer. These are so I can bolt the spacer to the bag such that it stays attached to the bag when I take the bags off. I did this so there would be fewer loose parts when removing or installing the bags.
This shows the clips used to hold the bag to the chrome support frame. Each clip is made from 1/8" aluminum. The bottom clip is bolted through the bag and inner panel and does not need to be loosened to remove the bag. The top clip does need to be taken off to remove the bags. The location of the top spacer and clip also serve to limit the bags vertical movement.
This is a shot inside the saddle bag, showing the inner panel and hardware.
The last thing I did was cover the aluminum inner panel with adhesive backed speaker box carpet to protect anything bouncing around inside the saddle bags.
The end result is clean and you can barely see any of the spacers, clips or hardware. I've added a home made aluminum 7/16" wrench to my on-board tool kit should I need to remove the bags when on the road.