Discussion Starter
·
#1
·
While traveling to Deals Gap from Ohio Thurs night I gat a flat on Rt 75 in Knoxville and had to get a tow at 11:30 at night to a hotel near a dealer so I could get it fixed the next morning.
I had picked up this bolt that killed tube and tire, no amount of fix a flat would help and my compressor wouldn't blow up the tire because it popped the bead.
As I waited for the dealer to open I figured I'd call Misunderstood "Dave" who I had been talking to from this forum because he lived in the area and let him tell me if I was in the right spot and maybe would be at the Dragon later so maybe we could hook up. He figured out where I was and immediately 15 minutes came to the rescue with a jack so I could remove the tire there and save a few bucks form the dealer. He then took me & wounded tire to the dealer, waited with me while they performed tire & tube transplant, gave great conversation, took me to a bike apparal shop to help pass time then took me back to the hotel and helped me reinstall the wheel. After all this he would not accept anything for his time or gas. My hat is off to the big guy that helped me out.
Dave "Misunderstood" is in the black Tshirt & thats me smiling cause I'm getting ready to roll again.
I was back on the raod by 11:00 and had the whole day still to ride the Dragon make it on to Maggie Valley get a room and then road plenty that day. Even though I broke down, the next day it rained I got goiing a little easier because of a new friend I found here on Volusia Riders.
On the BRP next morning...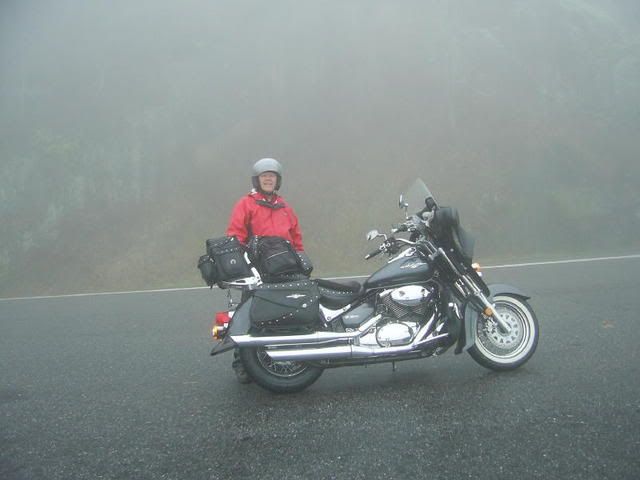 Thank you Dave for an assist and some great company Friday morning.
Terry