Discussion Starter
·
#1
·
Hi all,
Well, it looks like I'll be joining the ranks of Suzuki Boulevard owners here shortly if things go as I hope them to.
I just sold my 2000 VFR 800 to get into a cruiser. After a knee injury I find it hard to ride for longer than 30 minutes or so with my right leg hiked up. I want something more relaxed. I miss the VFR already, especially the sounds of the V4 but I'm ready to move on, she went to a good home.
I fell in love with the styling of the M50 right away. After a bit of searching I found a 2007 M50 Limited, charcoal with ghost flames (or tribal?) graphics. Looks very nice and has quite a few extras, Mustang seat, bags, windscreen and engine guard (not sure if I like that).
Here's a couple cell phone pics he took for me yesterday.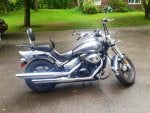 Can't wait to see it and give it a ride. Wish me luck!