I traded in my 2006 M50 a few weeks ago, and I'm left with a few parts to help some people out.
Some are new, some are used. I'm not looking to make money off the used, I'm looking to help a member or two that are in a tough spot that could use a hand.
However, I'm not LOSING money to give away parts either.
All these parts are either for or off an 06 M50. Please don't ask if it will fit your bike...that's on you to check.
Everything will be shipped via FedEx Express. I have a Fed Ex shipping computer at work. It's close, it's easy...and little to no extra work for me.
You pay actual shipping... I'll combine parts if desired. None of this is fine china, don't expect it to be packaged or shipped as such.
ALL PRICES DO NOT INCLUDE SHIPPING.
For the new.
I have a Clutch Cover Gasket, front caliper seals and two LED bulbs (Amber in Color).
Gasket: $5.00
Caliper Seals: $5.00
Two bulbs: Hell if I know. Humor me...
Used:
Front Brake pads with about 60% left on them. Make offer.
Factory Clutch with 16K on it. Still works just fine. I replaced because I'm anal. Make offer.
Stock Front brake hose. 10K miles on it. Make offer.
TO BE CLEAR. I'm not looking to pad your inventory or line your shelves with these parts. I'm trying to help some fellow riders out who just wanna ride and don't have the coin to buy new.
Pictures of all:
New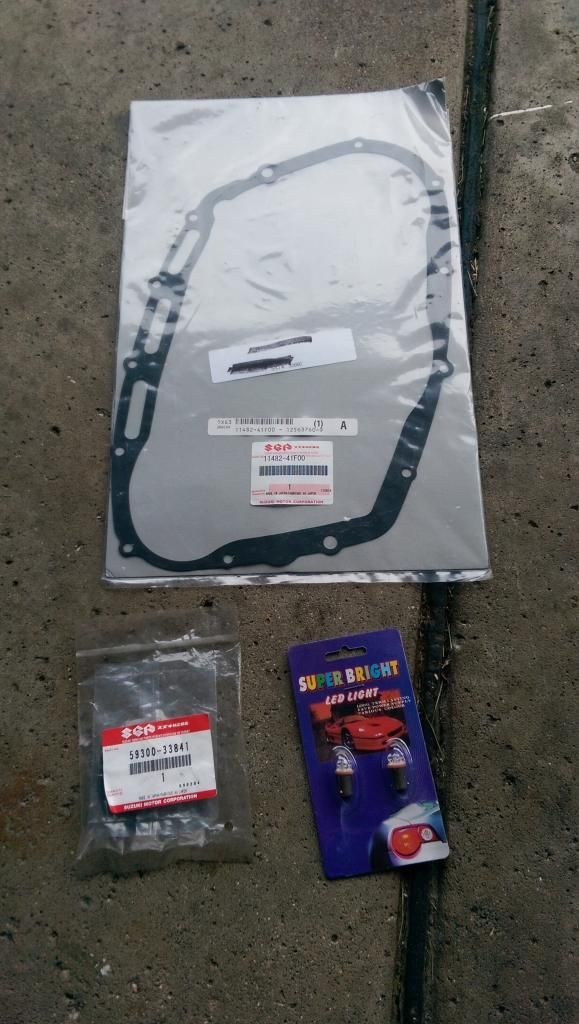 Used