The time has come to make a project thread/journal for my bike and my journey. Come next May(2017) I'll be saddling up and attempting to ride coast to coast and then home again. With life it's easy to say you're too busy or the budget is too tight to go visit all those friends and family that are out of arms reach. For the past few years I've been working towards making good on all those promises to come visit. I'm still about half a year out from departure, but since the bike has been acquired I wanted to document the changes and my planning. I've named my trek #FriendsOfTheRoad2017
It's been a goal I've set to attempt this cross country trek before I turn 30. I've invited all my friends that ride, but even for myself it's tough to dedicate this much time and resources. So I'll be mainly riding solo with a few stints that friends will join in on.
With my history of bikes it was tough to boil down what I wanted to ride. Coming from a sport bike world I was originally leaning towards an adventure touring style. With a heavy mileage count and remembering back to my drz days(that 2x4 seat was a joke!) I quickly changed my towards a cruiser. My Dad lent me his vtx1300 to test out which helped me decide I'd need around that weight/size. I've always done Suzuki's when I get into the bigger bikes so it was a no brainer to seek out a c90. Had to be 05 or newer as I wanted FI on this bike to help cope with the elevation shifts she'd be seeing. The Touring edition would also be a plus as it had most of the bells n whistles I wanted.
Plan was to purchase my bike this summer, get it setup, shake down all the cobwebs and have it ready before this winter. Had my eyes on a gold/white 2008 c90t, but it was on a local dealer's lot and just too pricey. I was waiting it out to get it more into my budget. Started to work up a trade deal with a GS500 I had in the collection. Unfortunately that bike was purchased before we could drop the hammer. Nearly decided to wait until winter to pick the bike up so I could get it well within the budget. Then almost too good to be true - a very nice '06 C90T popped up locally. Had been purchased new by a fella in WV who had hurt his back in the mines. So she's seen very little seat time and has plenty of life left. Only 3200 miles on the clock and this one was half the 2008's price and 10,000 less miles on it!
With the bike stabled I dug deeper into my route/itinerary. Below is my roughed out route. I have gone through state by state to highlight the main interstate routes, and rough stopping points. Then I'll go though again and plot some alternate routes with a little more scenery and pick my camping/hotel spots. Total I'll only have around 10-11 nights of camping/hotels between friends and family stops.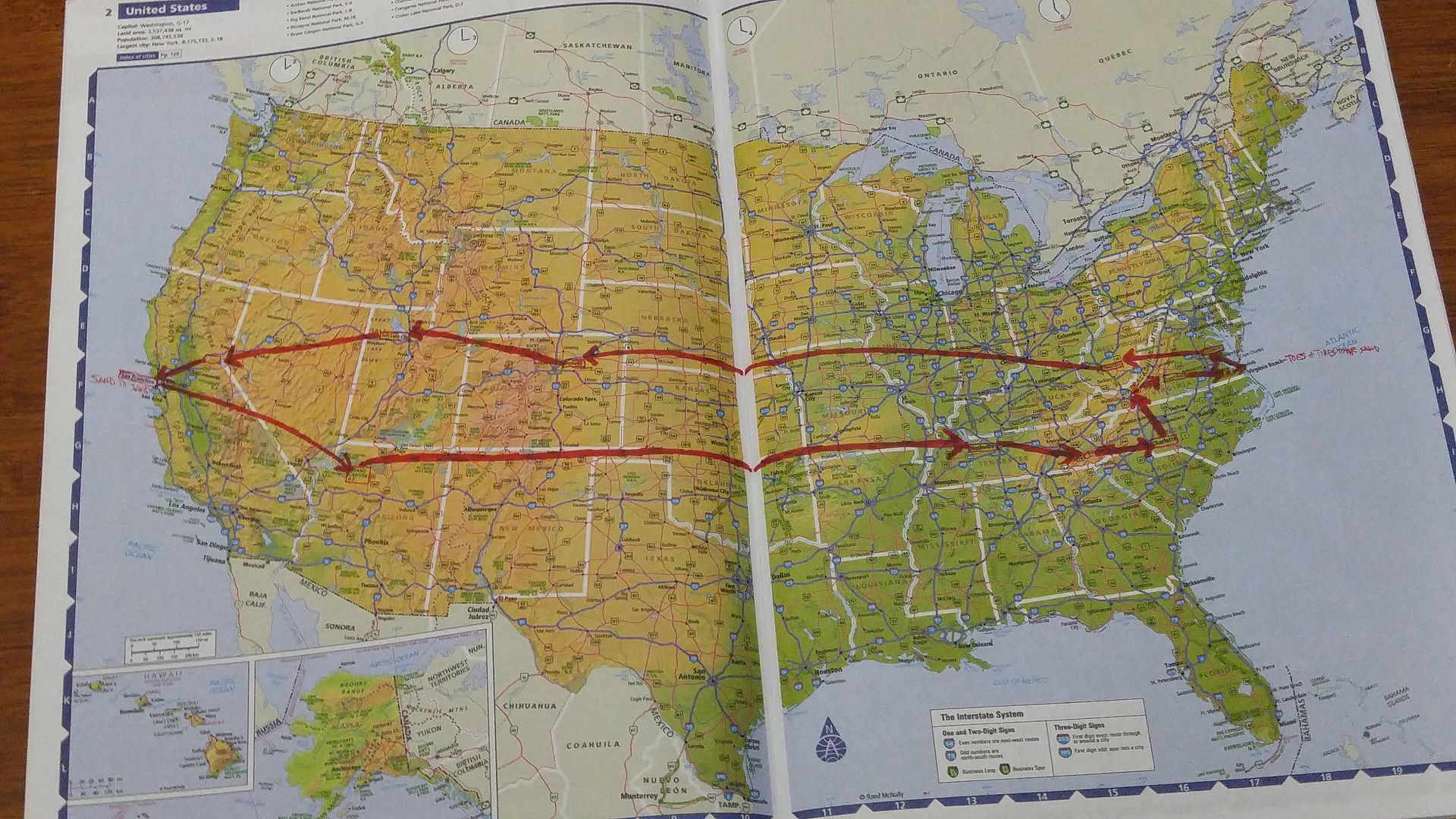 Most people that attempt this ride would scold me for having so much highway(funeral procession traffic as some would call it). Although it's a huge plus for me, but seeing the country isn't my goal on this mission. I'm doing this to enjoy seeing everyone in their home spot and get to enjoy any time I can get with them. So I will likely be seeing a lot of mile markers in attempt to maximize my down time. I definitely have some things on the list to do for my own personal enjoyment.
My last bigger research to do and decision to make is what I'll be riding for. Visiting friends clearly, but also I am planning to ride for a greater cause. After watching Long Way 'Round years ago - I've had the desire to ride for something more than just myself and my own journey. Haven't figured out exactly what it is I want to ride for, but I'm praying on it! If it was just to raise money - I would like to raise money for something tangible so my Church family came to mind. More than money though I'd really like is to just show up to put a smile on someone's face seeing this grungy guy roll into their town, even if it was just for a second while I'm passing through.
EDIT: So I've finally decided on what I'd like to ride for! Took a lot of time thinking and praying over it. In the beginning I really wanted to ride for an organization with maybe a couple stops to visit with locals along the way. Unfortunately after digging in more I felt for my first time attempting something like this(ride or charity cause) I wanted to start small and obtainable. From day one if I was going to raise money I was going to donate it to my church family, Radford Worship Center. There's no better people around that are pouring out unconditional love and support for our local area. I'm not looking to stand up in front of people and put on a show to raise money. though. Would rather gather donations quietly and leave 100% in the offering plate to aid in the great works that He and our church family are doing. I will be attempting is to raise 10 cents for every mile I ride. Netting right around $750 total. If you feel the need to give, please use the link below. Anything is greatly appreciated and all proceeds will go to those in need.
https://www.gofundme.com/friends-of-the-road-2017
My current ToDo list:
- Replace the stock ignition system with a quality part (keep the stock unit as my back up)
-Decide if the Gman fuel tank expansion is justified(tank + having to change stock pipe)
-Finish route/itinerary
-Keep working on gear/accessories/bike setup