Discussion Starter
•
#1
•
G'day,
I know this is all a bit 'mickey mouse' but just in case someone is removing a rear tyre (cos it's flat) and doesn't have a workshop manual, I hope this helps.
The first thing you need to do is get a flat, after riding with some mates all day I managed to do that 1oklms from home.
This is me riding in the good old days when I had air in my rear tyre (last week)!
BTW the bike is filthy because I just come back last week from riding to Qld and back (from NSW) clocking up a few thousand klms.
My bike is lowered 2.5" and I won't bore you with the troubles I had getting in on a trailer to get it home and then getting the jack under it... Flat tyres suck!
Mine deflated very quickly and was unrideable in 2-3 secs as can be seen below.
The manual tell you to take off the side cover (below) don't bother it isn't necessary (trust me).
Take out the two 10mm bolts that hold the plastic drive cover (leave it loose so that you can gently bend it when the axle pops out)
And with a 8-9mm? Allen key remove this bolt
I did...
Now move to the other side and stake off the rear brake adjusting nut and separate it from the pivot joint. It is easier (not necessary) to take off the top exhaust muffler this means removing two bolts that hold the muffler to the plate and the clamp that holds it to the exhaust (Forgot to take pics - but it took 2 mins tops). You will also need to undo the brake torque link (one bolt/nut) When done it will look like this.
Now you have clear access to the axle nut, newer ones apparently have cotter pins mine did not. You will need a 22mm socket for the exhaust side and a 17mm socket/spanner for the drive side (to stop it spinning)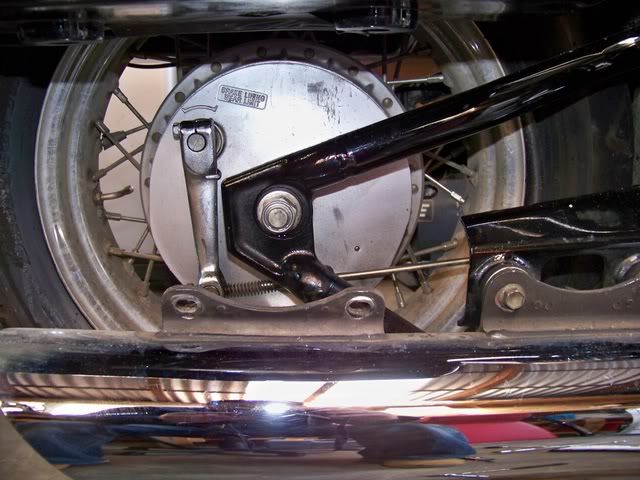 You can now gently knock the axle out - I put my car trolley jack under the wheel just to take the weight off the axle bolt as it slide out.
The removal job is now complete, best to take the drum brake out of the wheel once removed so it doesn't fall out when you take the wheel to the tyre shop or do the repair yourself.
This is a picture with the wheel back on - remember to torque up the rear axle nut correctly (65Nm). It's time for a cold beer. While I had the rear wheel off I also cleaned up the chrome mufflers, rear wheel and did some routine maintenance etc. To remove the wheel took about 60-90 minutes (slow first time and taking pics). Putting it back on took 30 minutes.