Discussion Starter
•
#1
•
Morning all…looks like spring is beginning to wake up and show its long awaited welcome face with a few teaser
50 degree days
that almost lead me to think that maybe… just maybe… riding time is here.
Decided recently to do some
modding
while waiting for some riding days to appear and while most will take this
down time
to mod their rides, I chose to mod something relating to my riding excursions.
As some of you may remember who attended last falls
OctVRFest
, due to the lack of available seating outside the hotel for our nitetime foolishness, it was suggested to bring ones own seat/chair. After deflating the wallet of
$6.97
, a new rally item for
that
rally and
future
rallies was introduced…the
"Rally Chair"
.
As most of you already know, my
lack of any life
and my ability to waste the days serving no useful or beneficial purpose, hours spent posting mindless and endless tidbits of useless information here on the board, I decided to find something constructive ride related to perform that would not hinder the performance of the bike…(yep… I'm one of those types who learned the hard way from past experience to leave well enough alone) …nor remove the few remaining pennies left in the C90 secret stash…remember the chair did set me back quite a bit last fall. But as most here know, can't put a price tag on comfort or what we always use as a justified excuse to waste good money on senseless items…so we call them…
riding neccessities
…yep…one of those things that leave "others" to go hmmmmmmm….
So after many hours of planning, computer generated designs, and endless minutes of searching the garage shelves searching for anything related to the Vol Family, I began dressing the chair. Here a patch,
wasn't fortunate enough to know Diamond D but obviously a brother here at Vol and to support a good cause...
there a patch,
to honor a special friend here in the northeast who's memory will always be a part of any rally we have here...
and what better way to remember the wifes first riding vacation than a stop at her first biker bar...
not really certain for sure but could swear i recognize something hanging from the rafters.....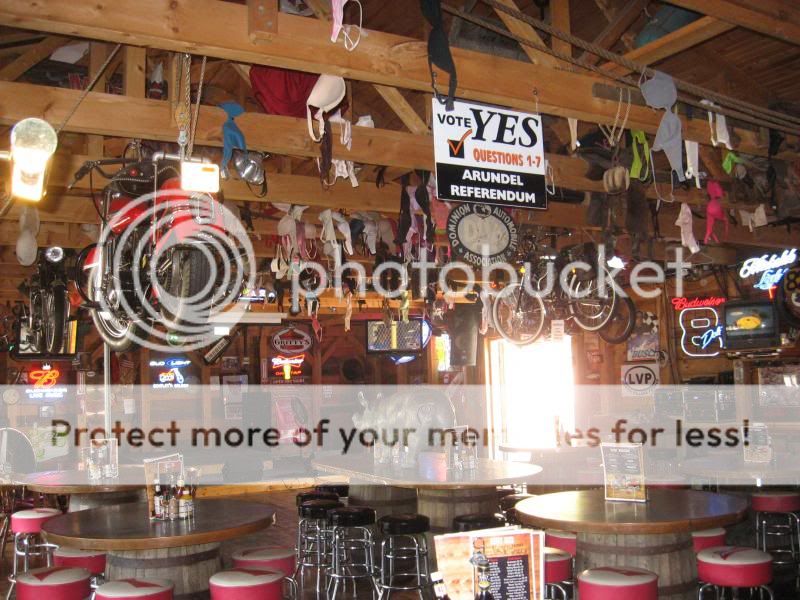 a few studs and a pin
that left the wife wondering maybe she needs to frequent these rallies a little more often than the few she finds herself making…
and even more surprising, the chair survived the weekend.
So, depleting the secret stash fund,
investing in more studs,
custom lettering,
a bag of goodies to compliment a "certain pin"
and by mere coincidence they neatly fit in a available compartment...should even be innocent enough to fool anyone....
and adding a pin specially designed by yours truly to remember the 2013 OctVRFest
can proudly say "
yes, I actually did something ride related that shouldn't leave me stranded on the side of the road."
Unless of course the chair itself dislodges itself from the poor securing job I've been known to do when I attempt to pack it for any trip I take with it…getting tangled up in the wheel and eventually resulting in…never mind…don't even want to think about it…often wonder why the other half suggested I make sure my life insurance was paid before I left after watching me attempt to secure the chair to the mc when I was packing for the Ofest…maybe I should just invest in a few more bungies…then again the cost of bungies…never ends…anyone got a few spare empty soda bottles I could turn in for some cash…
So like we all want to believe…done for now…
then again …wonder how difficult it would be to add some cushioning to the seat area…ala
Mustang Style
…then again…better leave well enough alone…maybe leave that for next years winter modding project…
really do need to get a
Or a  
Or some sort of life. Guess I could always tend to the
once again empty coffee pot
. Ride safe all.