Discussion Starter
•
#1
•
Last summer the C90 drive blew a seal and oil all over my nice whitewalls
Since it was prime riding time, I popped the oem drive in and put the C90 drive in the "winter maintenance" lineup.
Changed the seal this winter and now it's time to reinstall on the bike, thought I'd include some pics.
I went to the trouble of installing the oem C90 driveshaft complete, as if it would be if someone recieved an unmodifed drive.
The decision then must be made, modify a C50 driveshaft, modify a C90 driveshaft, or modify a universal joint. Aric Balster can modify a C50 driveshaft by moving the shoulder back .200. DJHillis can do a cut, sleeve, reweld of a C90 driveshaft, or any competent machine shop can do either as well as modify a universal joint. I happen to have a Balster modded C50 shaft, so I'll use it.
Remove grease seal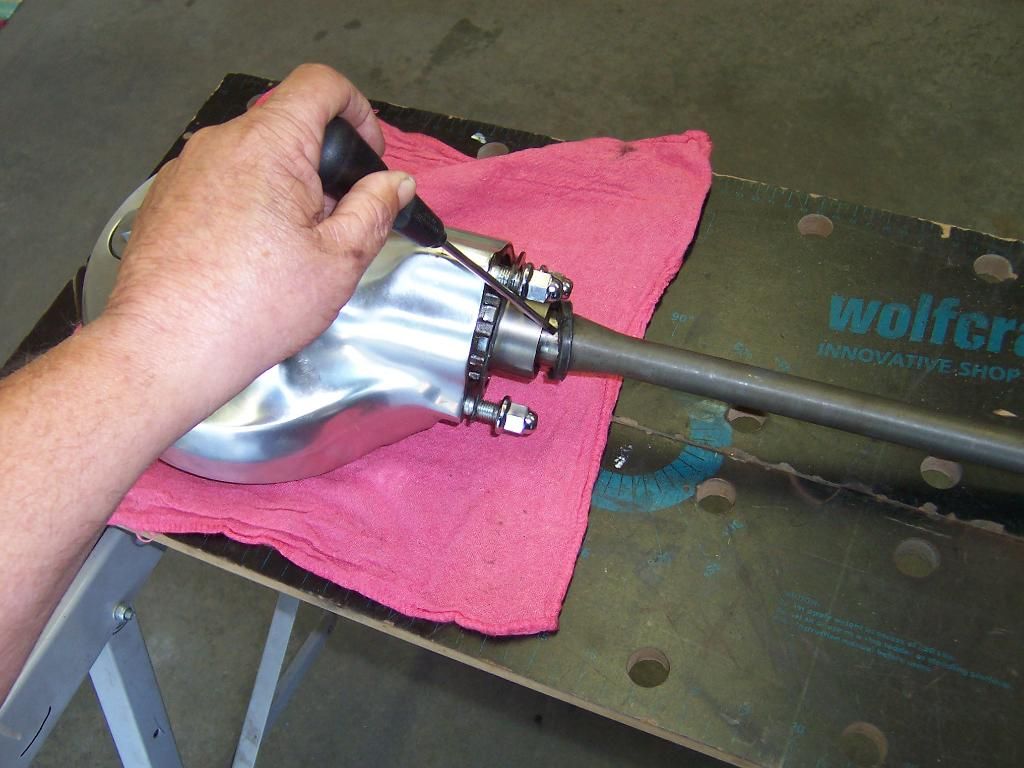 Remove circlip (snapring)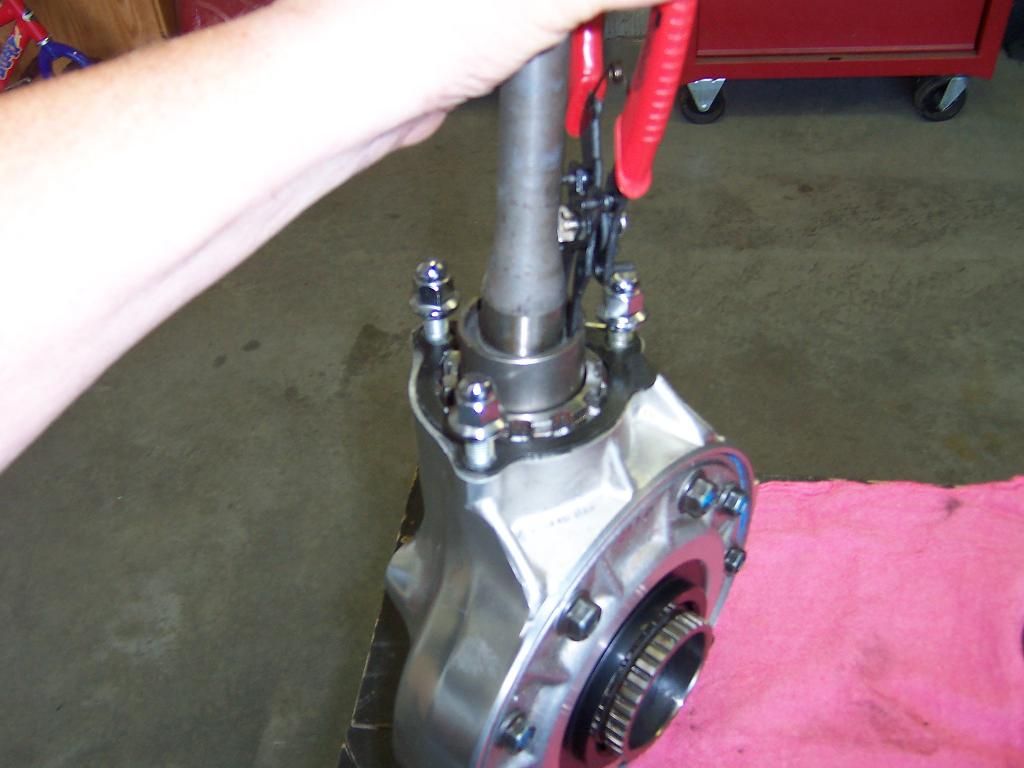 Separate driveshaft from drive coupler. You will have drive with coupler, spring behind drive shaft, driveshaft, circlip, and grease seal.
I have laid out parts for reassembly.
Final drive (C90/VL1500 or VS1400)
Modified driveshaft (VL800/C50 with shoulder moved back .200 or C90 cut sleeved, rewelded or stock unmodified VL800/C50 if installing a modified U-joint.
C90 spring
New grease seal (p/n 09283-30026)
Moly 60 grease
Snapring (circlip) suzuki recommends NOT reusing a circlip, but I reuse 'em anyway.
You have another decision to make as far as spacer, bushing or a combination spacerbushing.
VL1500 and C90 drives use a larger axle than VL800/C50 so the axle hole must be matched to the smaller axle size. I have a bushing to do that I got from Aric Balster. 19.94mm O.D and 16.70 I.D. You will also need an axle spacer 2 7/8ths long. Some just cut 2mm off an oem spacer, or you can use a piece of tubing.
Some people use a spacer with a bushing already machined into the end of it. This is the type DJHillis provides.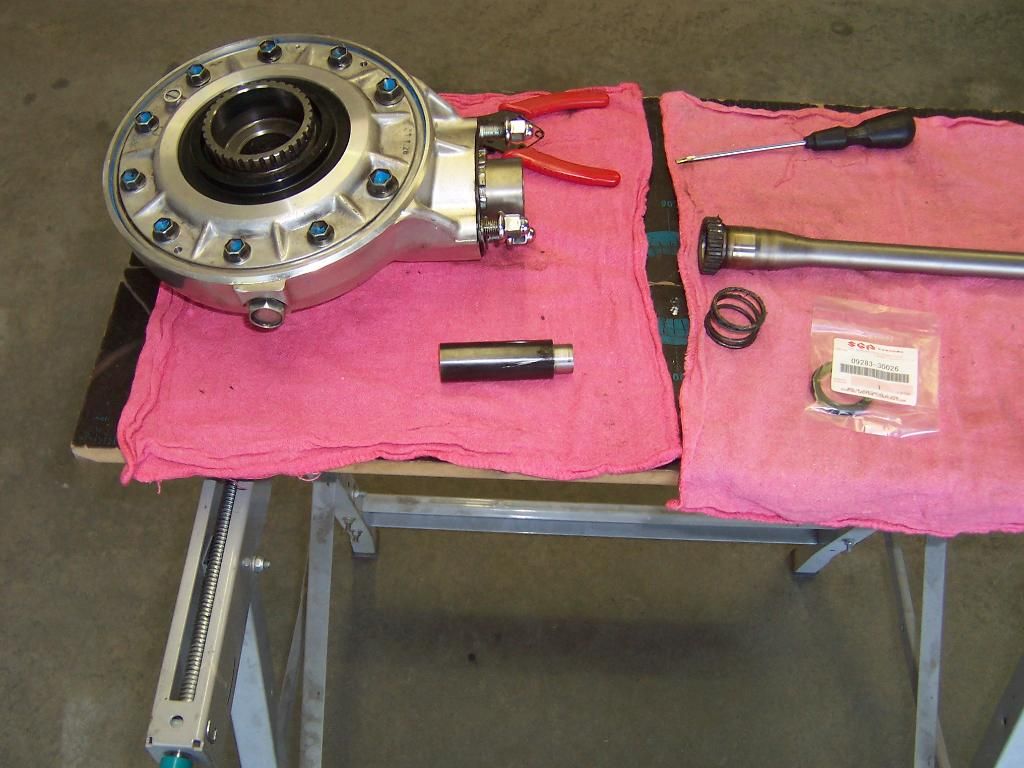 My Balster bushing pushed into the C90 drive case. Reminder, the bushing is not necessary when using a VS1400 drive. Spacer yes, bushing no.
Before install the drive shaft into the final drive, liberaly grease splines with Honda Moly paste ***THIS IS A CRITICAL STEP***IT WILL PREVENT DRIVESHAFT SPLINE FAILURE***
Install C90 spring, driveshaft of choice, circlip and new grease seal (suzuki calls it an oil seal, but what do they know).
I have had these seals pop out on me, after install (I gently tap them in place with hammer and small drift), I drizzle alittle thread locker around the seam between the new seal and the coupler, seems to help hold it in place.
Ready for install
Prep bike for wheel/tire removeal and remove left side "fake swingarm"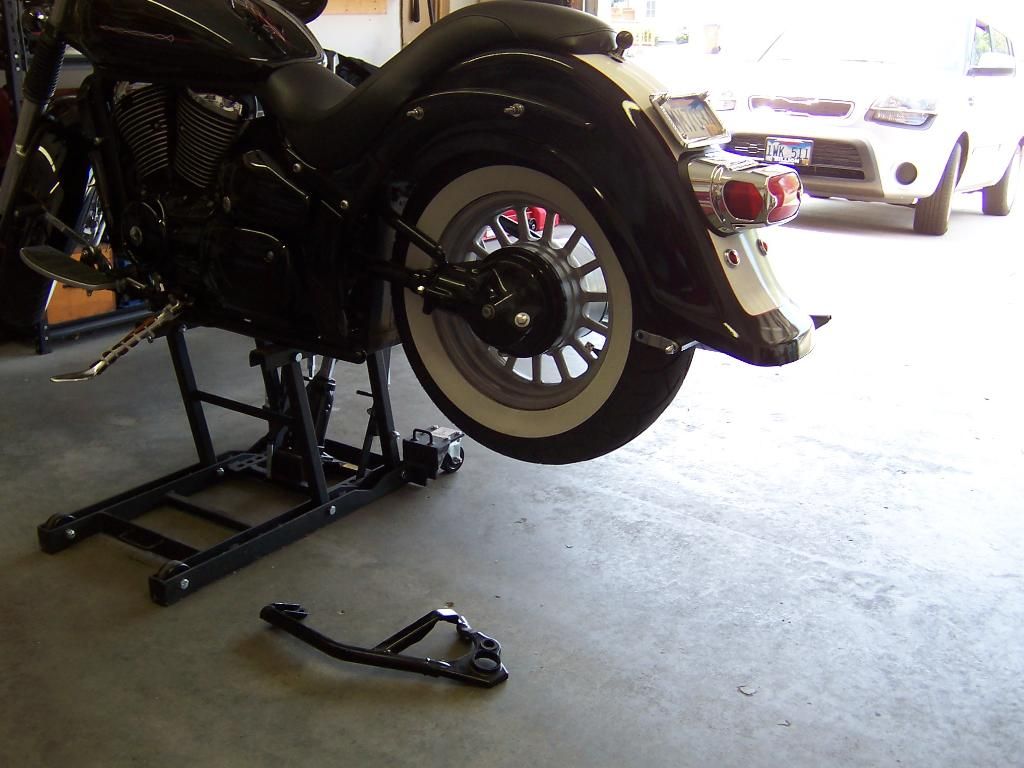 Prep right side for wheel/tire/brake removeal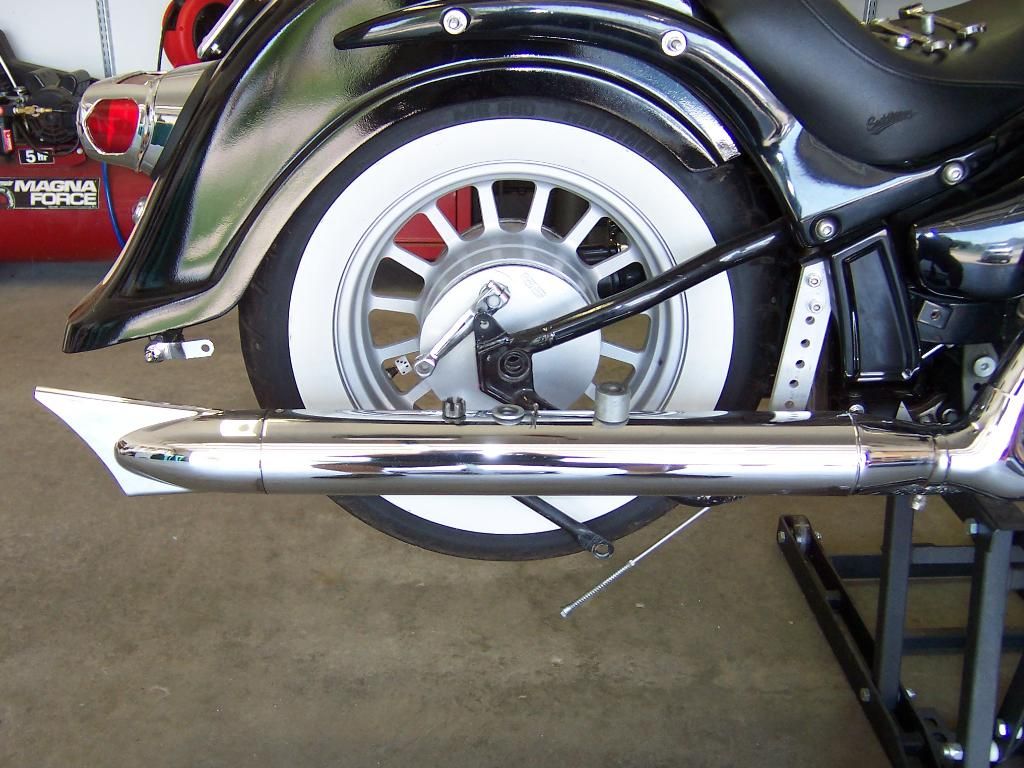 Remove wheel/brake assembly
Remove 3 cap nuts from oem final drive and remove final drive from swingarm
Decision time again. The new final drive bolt pattern is just slightly larger than the oem pattern. You have two options, you can drill all three holes oversize using a 9/16ths drill bit or step bit, or you can simply file the holes oblong with a rat tail file. Filing removes alittle less material, drilling probably goes faster. Either way will work. If you drill you may need bushings if you ever want to reinstall you oem drive. I filed my holes with an air die grinder.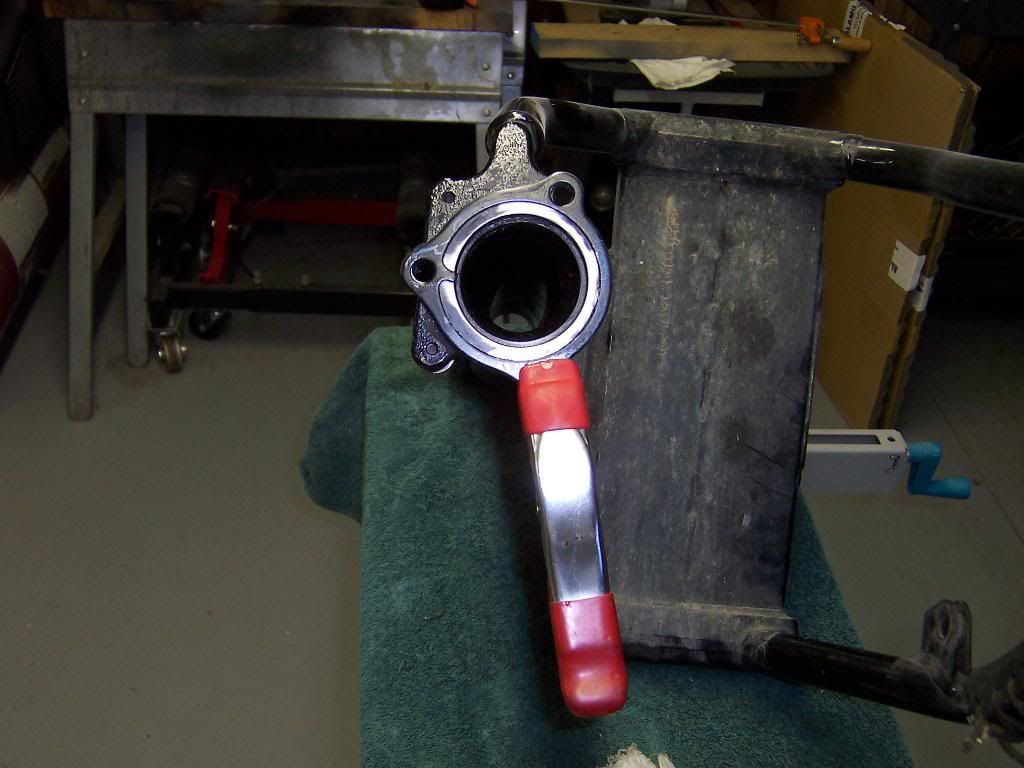 I removed the paint from from the area that needed to be ground out and used the C90 bearing plate (metal gasket) as a pattern to show me where to remove metal by filing.
Don't forget (like I did) to grease the u-joint end of the driveshaft and install the unit onto the swingarm, make sure there is a "bearing plate" (metal gasket) between the final drive case and swingarm mount flange. I had to remove mine and add the moly grease and was very very lucky, one stab each time and the driveshaft spines engaged the u-joint perfect. It is rare when that happens for me, I usually have to use a broom handle to reposition the u-joint. Tighten the mount nuts.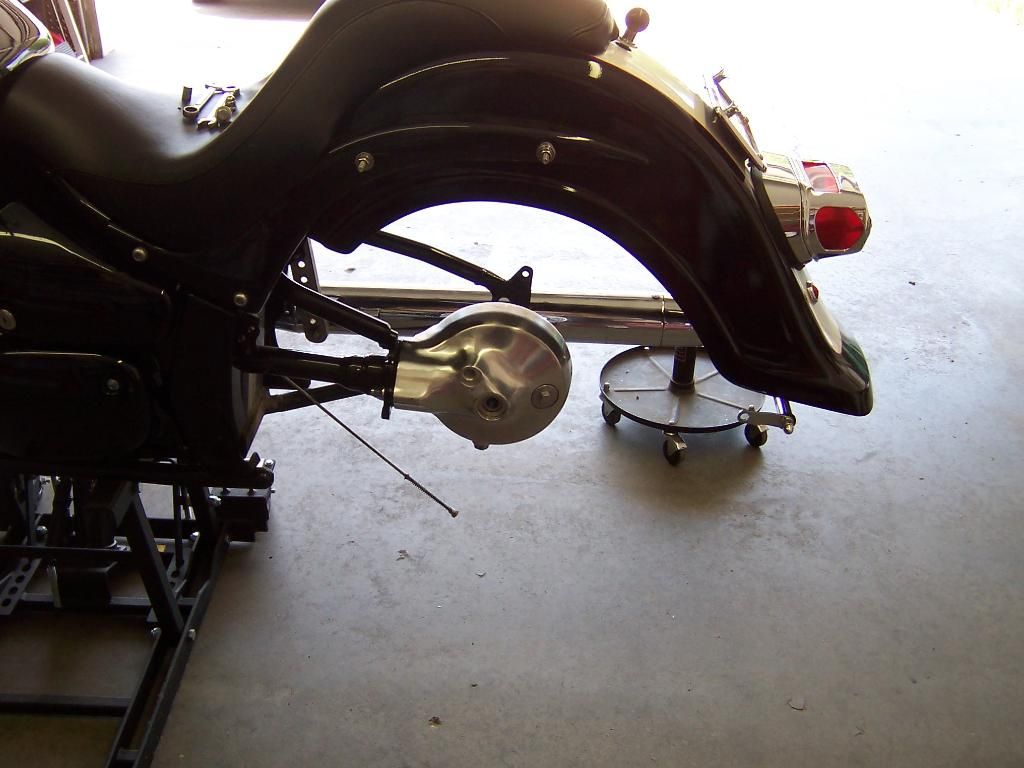 Make sure axle spacer is intalled in final drive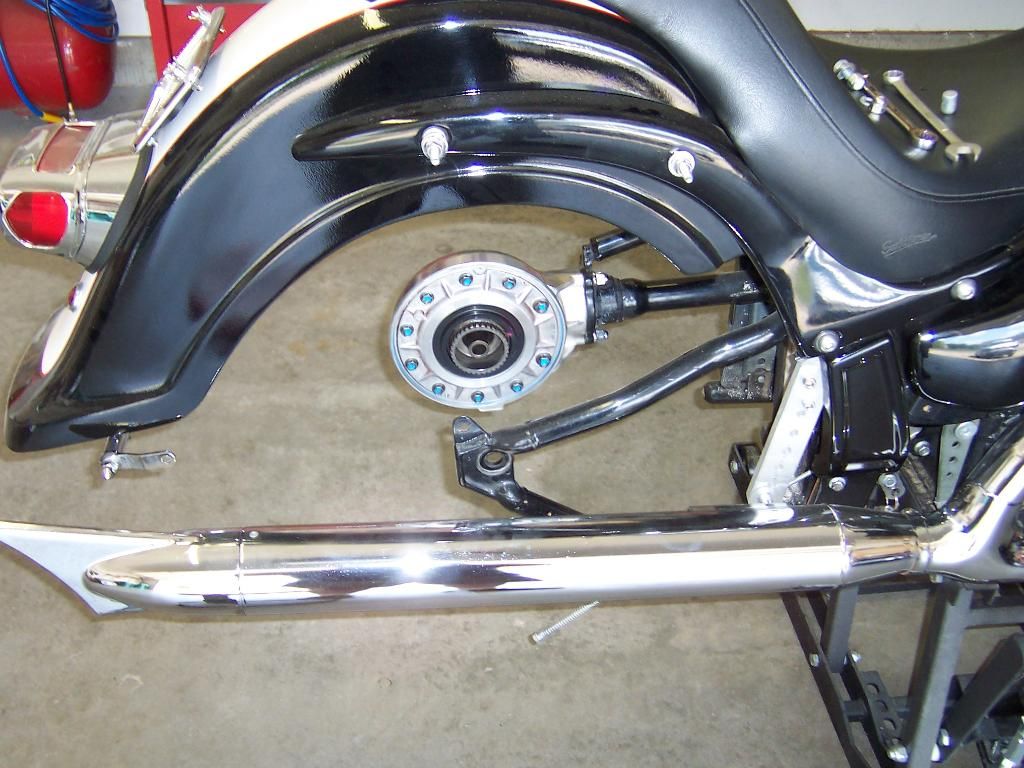 This is a good time to fill with 90 weight gear oil while the tire/wheel are not in the way
Reinstall wheel/brake assembly. I use a platform scissors jack to raise the wheel up to the final drive.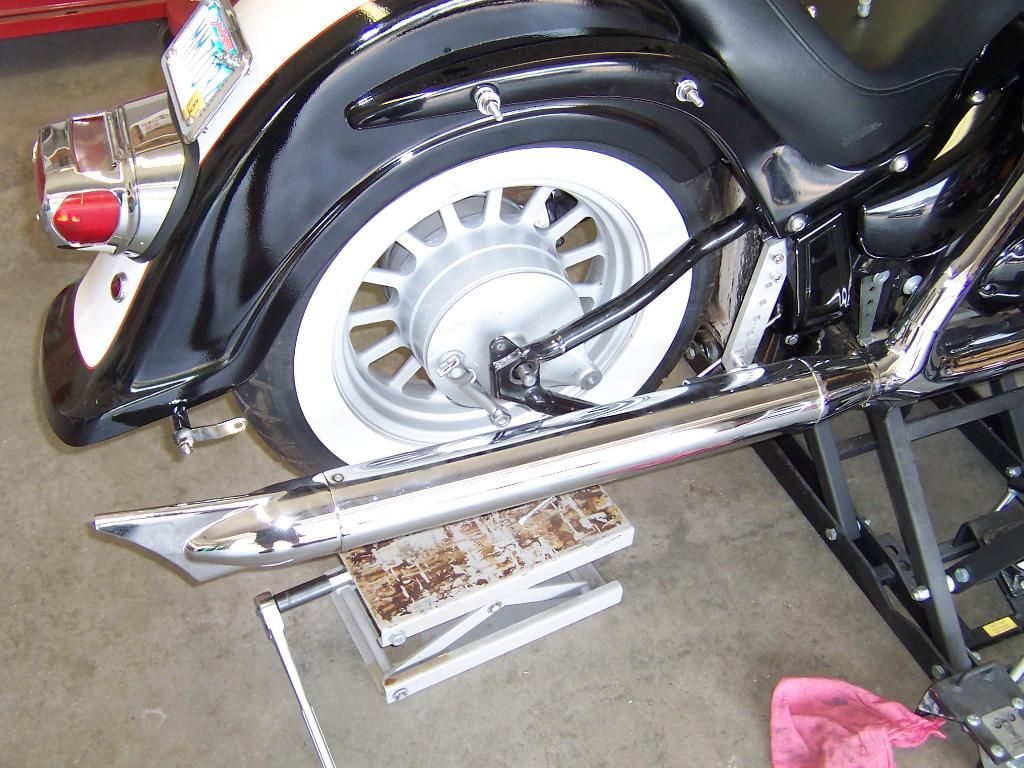 Reinstall brake assembly, adjust as necessary, torque wheel nut, install cotter pin (I was all out so I have a tempary hitch pin in there.
Anytime I do any rear wheel work I always have to finish up with alittle Wesley's bleach white.
There you have it, a final drive mod and install. Hope the pics help, and as always feel free to ask any questions.