Discussion Starter
·
#1
·
After a seemingly endless Ohio winter, we decided in late April that the only way to avert total insanity was to take C50 to warmer climates. We had previously been to the southwest portion of North Carolina, and knew that there was some great roads and scenery in that area.
When there was finally a stretch of decent weather predicted for the area, we loaded our bike on the trailer and headed south.
We had found a house on "Vacation Rental By Owner" near Murphy NC that looked nice. Since it was late April, it was still available on short notice, and at the lower winter rates. Very nice place with an awesome view.
At this time of year, the trees were just getting leafed out at the lower altitudes, but still a bit bare at higher altitudes.
The first day, we headed south of Murphy, down Georgia Route 60. Several miles south of Morgantown GA was a restored grist mill, Skeena Creek Mill. It's part of a small primitive campground in a very nice setting.
Farther south on Route 60, just south of the intersection of Route 180, is Two Wheels of Suches (formerly Two Wheels Only), a campground and gathering spot catering to bikers. We had a coffee, sat down by the stream, and made some phone calls since cell reception in this area is hit and miss.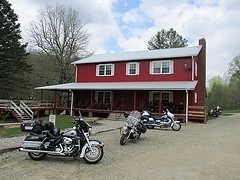 It was near lunch time, and we were considering just grabbing something at a nearby convenience store, but a biker recommended a place down the road a ways, Turner's Corner. More on that in a bit.
A few miles south of Two Wheels is the Woody Gap Overlook where the Appalachian Trail crosses Route 60.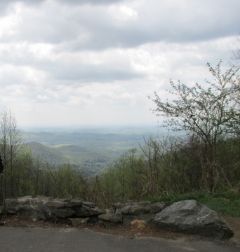 We continued south on Route 60 and took Route 19 north for a few miles. Fortunately, it was a Friday, and the previously recommended Turner's Corner Restaurant was open (weekends only). Great dining experience, sitting out over a mountain stream, watching the fishermen catch trout.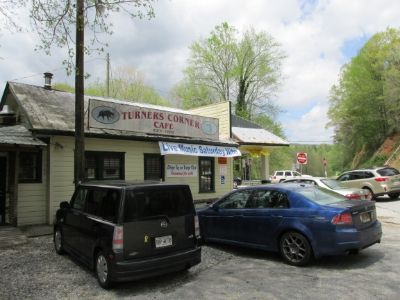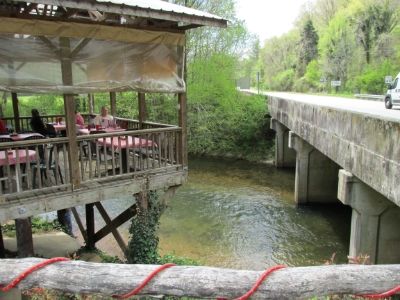 We backtracked and took Route 180 east (a favorite route among bikers), and headed south on Route 348 to Helen.
It's a bit too touristy for my taste, but some may like the Bavarian theme of the town. Just south of Helen on Route 75 is an Indian Mound close to the highway.
From there we headed back to our place in Murphy to chill out and just admire the scenery from our deck.
On Saturday, we headed west into Tennessee on Route 64. The Boyd Gap overlook is worth a stop.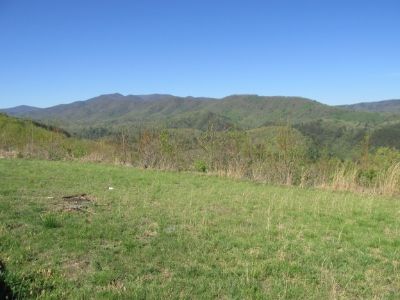 A little farther on is the Ocee river, with tons of kayaking outfitters and lots of tourists, but a very scenic ride through the river gorge.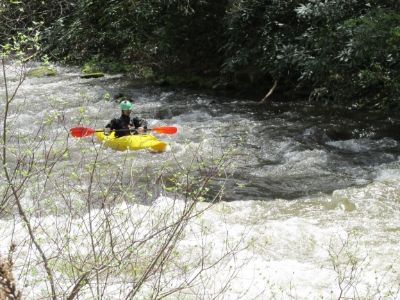 We took Route 30 north, then on to Route 315 heading toward the Cherohala Skyway.
Near the intersection of these two highways is Webb Brothers Gas, a neat little place that has been around for 70+ years. They're starting a small museum in a corner of the store with lots of memorabilia from days past. Definitely worth a stop.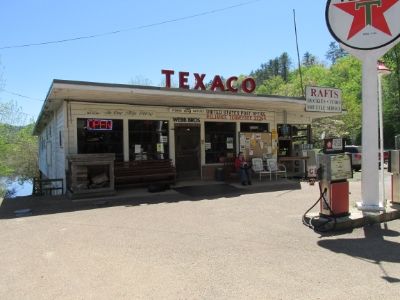 After lunch in Tellico Plains, it was on to the Skyway. We've been on it before, and weren't disappointed again. Being a weekend, there were tons of bikers enjoying the scenery and twisties.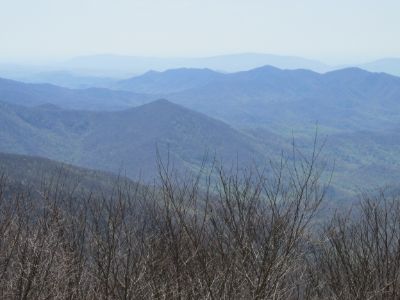 On Sunday we rode on the Wayah Road, which intersects Route 64 just west of Franklin.
Not the best pavement, but some fine hills and challenging curves. As we approached the intersection of Route 74, the road ran alongside a river. Don't know what rating the river rapids had, but there was some serious white water. Lots of kayakers putting in and taking out (and getting dunked) for a good 5 miles.
We took Route 74 over to Route 28, which is an awesome road. We went south and had lunch in Franklin, then continued south to see the waterfalls. The first one jumps out at you as you round a curve in the road.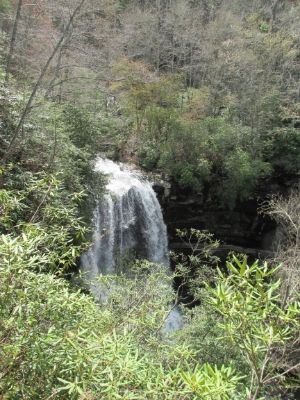 Continuing on 28, there is a parking lot on the right, and walkways leading down to Dry Falls (strange name, since it is impossible to stay dry while walking near or behind the falls).
A few miles farther south is Bridal Falls, with a paved path going behind the falls.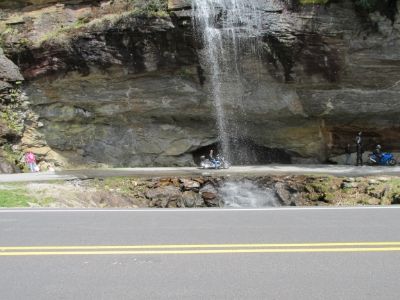 It's a great area for riding. We were very close to the Tail of the Dragon, but when we were near it, unfortunately, it was on a weekend. We didn't want to compete with all the crazies. It's not that far to the Smoky Mountain National Park, the southern portion of the Blue Ridge Parkway, or the attractions of Asheville or Chattanooga.
I'd recommend fueling up when your tank reaches the halfway mark, as gas stations can be rare on some stretches of these roads. We've taken about 30 biking trips, and this area is definitely in the top three.