VR Member
Join Date: Sep 2009
Location: Inwood, Manitoba, Canada
Posts: 285
Thanks: 4
Thanked 1 Time in 1 Post
Congrats BikerBoy Nice look.
---
09 Blue/White C50T, OEM Lightbar & Engine Guards, Baron Risers, Vista Cruise, LED Lights & Passenger Floorboards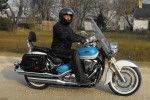 Ride To Stay Young
Super Moderator
Join Date: Dec 2008
Location: Owings Mills, MD
Posts: 3,720
Thanks: 3,043
Thanked 1,190 Times in 624 Posts
Quote:
while its nice to be acknowledged by the members for helping out 2 fellow members, Pete and Lillie, I have to give the credit where it is due...to the entire group who participated in this relay that actually made it happen from start to finish. All I really did was plant the seed and then watched it grow from the east coast to the west coast. Many were involved in coordinating handoffs and maintaining the several threads following the bags as they went from member to member. I had the pleasure to finally meet up with Pete and Lillie at our summer rally in NY and sit and chat while sharing a table at dinner this past summer. Words are hard to find to explain the feelings I left that night with realizing the love these 2 people share and the attitude Pete and Lillie have carried thru during this part of their life together. Thanks again to all who made this journey possible and a very special wish for a happy holiday season to Pete & Lillie.
---
07 C50- SOLD......A few bikes in between......99 Royal Star Venture-current
Banned
Join Date: Feb 2006
Location: Alabama
Posts: 10,976
Thanks: 245
Thanked 155 Times in 84 Posts
^^^^^^^^
Senior VR Member
Join Date: Mar 2006
Location: The Glass City
Posts: 4,848
Thanks: 116
Thanked 152 Times in 99 Posts
---
"Don't take yourself so seriously, no one else does."

"This life's hard, man, but it's harder if you're stupid."

You can't learn anything while you're talking.

'01 Black & Red Volusia - sold
'09 Black FJR
'16 Ural Gear Up
'73 Yamaha CT3
'83 Honda XL250R
Posting Rules

You may not post new threads

You may post replies

You may not post attachments

You may not edit your posts

---

HTML code is Off

---