VR Member
Join Date: Jan 2009
Location: Cambridgeshire, England
Posts: 104
Thanks: 0
Thanked 0 Times in 0 Posts
Roadhouse Exhaust
---
Any body got any expereience with these exhausts?

Spotted one for sale (ebay) - it is a 2 into 1 pipe (used). Said to be loud but not too loud (anybody got any opinions?). Also if I go ahead should I consider re-jetting (on a 2004 Volusia)?

Thanks for any assistance,

Keith
---
K4 Volusia Limited Edition
Moto Guzzi California Vintage
Senior VR Member
Join Date: Oct 2004
Location: GA, Savannah
Posts: 14,379
Thanks: 9
Thanked 479 Times in 352 Posts
You will have to rejet
They are the quietest aftermarket exhaust but still have a rumble. Here they are on my old 04 Volusia
---
-Metal monsters that let us breathe. Let us smell. Keep us from being numb. - Zookoff
-Twisties give me happy pants
Here's to a long life and a merry one.
A quick death and an easy one.
A pretty girl and an honest one.
A cold pint-- and another one!
VR Member
Join Date: Jan 2009
Location: Cambridgeshire, England
Posts: 104
Thanks: 0
Thanked 0 Times in 0 Posts
Quote:
Originally Posted by v0lusia
You will have to rejet
They are the quietest aftermarket exhaust but still have a rumble. Here they are on my old 04 Volusia
Thanks vOLusia,
yep that looks like the pipe but the one I am looking at has serrated down tubes going to the silencer and the standard end tips instead of, what I am guessing, is the slash cut.
Thought re-jetting would be required (though seller insists that he didn't bother!).
K
---
K4 Volusia Limited Edition
Moto Guzzi California Vintage
Senior VR Member
Join Date: Jul 2005
Location: So. Dak. Sioux Falls
Posts: 28,859
Thanks: 1,109
Thanked 3,009 Times in 2,187 Posts
I have had 3 sets of Roadhouse exhaust, 2 into 1 on C50 and M50, and doolies on a 1600 Kawisaki. For my money, the low rumble of a Roadhouse muffler sounds better than any other aftermarket exhaust on these 800's, but as they say they are not loud. You can order them with different tips and smooth shields or serrated shields. The serrated are polished stainless and will turn slightly yellow in time, but there is supposed to be some product that will remove that. Check the link.
http://www.roadhousebrand.com/
They are a jigsaw to put together, just take your time and be prepared to adjust and reposition things to get them looking right.
doolies on a 1600 Kawasaki
2 into 1 on a C50
2 into 1 with a short aftermarket muffler (that was loud
)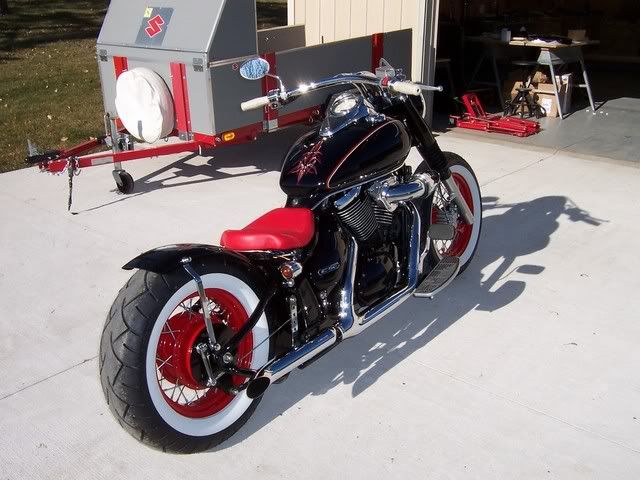 I took a 2 into 1 system, fabricated a crossover pipe and added a muffler to the right side for a dual system. The Roadhouse 2 into 1 is the base system I added to.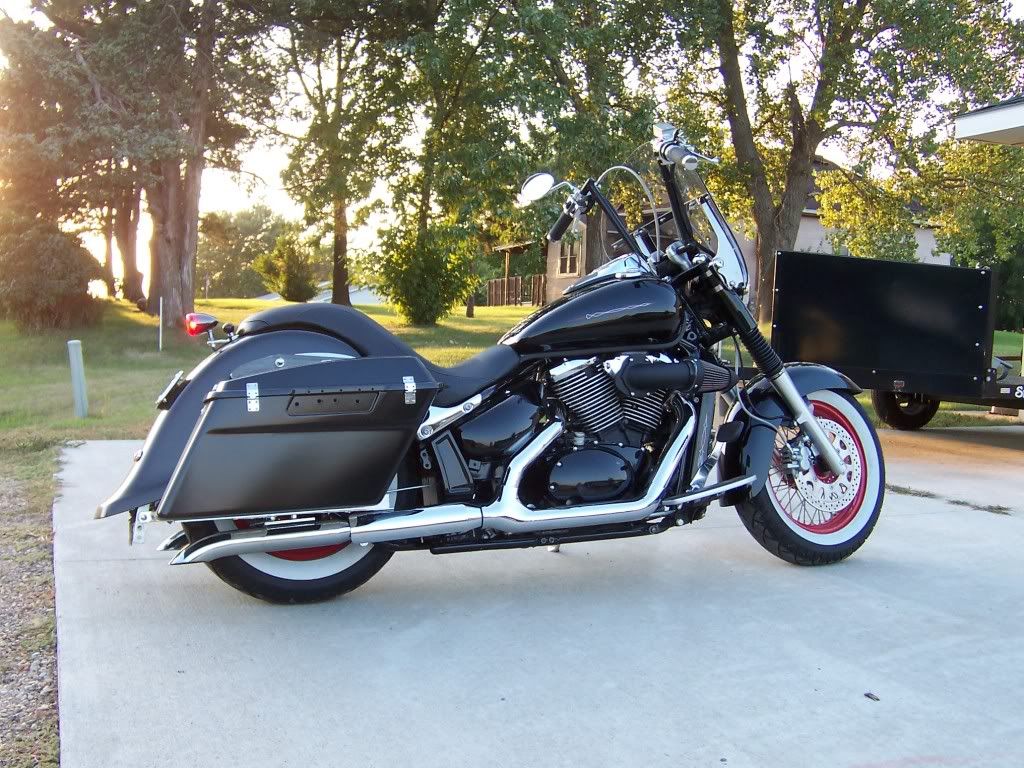 After installing doolie mufflers and shark fin tips.
---
When I want to read a really good Harley thread, I just turn to VolusiaRiders.com
Senior VR Member
Join Date: Mar 2012
Location: Indiana
Posts: 18,705
Thanks: 1,580
Thanked 1,552 Times in 1,389 Posts
It's an 8 yr old thread. Roadhouse exhausts are extremely hard to find since they quit making them yrs ago.
---
I can head East or West, it doesn't matter as long as it's on 2 wheels.