Senior VR Member
Join Date: Jun 2006
Location: OklaHumma
Posts: 2,685
Thanks: 576
Thanked 425 Times in 249 Posts
The Menace
---
Today I had the honor of officiating the funeral of a young man that died in a head-on crash this past weekend. The young man and his fiancé were heading north on highway 75, (about 5 minutes north of Tulsa) on a straight, divided 4 lane highway. Suddenly there was a car heading south right in front of them. Not only did both on the bike die, but also a passenger in the car. The driver and another passenger in the car survived. The driver of the car was drunk.
I guess the reason I am writing this here is because I am tired of having to preach funerals for these senseless deaths. It sickens me every time I hear of a biker going down because of a stupid drunk or a texting idiot. I lost my best friend a few years ago to a texting truck driver and I'm tired of seeing my brothers and sisters fall prey to fools who should not be driving.
PLEASE, be careful out there. Don't just ride like you're invisible, ride like every cage out there is trying to kill you.
The Following 13 Users Say Thank You to Chahta For This Useful Post:

beezer

(07-29-2015),

csimmans

(08-08-2015),

DCinCT

(07-30-2015),

Jeffrobombero

(07-29-2015),

Midnight

(07-30-2015),

oldtraf

(07-30-2015),

Orono

(08-03-2015),

RellaLou

(07-29-2015),

Skrapiron

(07-30-2015),

Sleepwalker

(07-29-2015),

ThePostman

(08-02-2015),

Tortoise

(07-31-2015),

Wood Welder

(07-29-2015)
Quote:
ride like every cage out there is trying to kill you.
I've been riding like this for years!
Senior VR Member
Join Date: Dec 2008
Location: New Braunels, Texas
Posts: 4,465
Thanks: 1,346
Thanked 896 Times in 672 Posts
It's a war out there. I intend to win the daily battles. Be safe.
---
2006 C50c- crashed 2015, parted out
2006 HD Road King FLCRCI
1956 Royal Enfield Bullet 500 (sold)

2010-Guanajuato, Mexico
3 Sisters Loop-Texas Hill Country
2011-A1A-Ft. Lauderdale, to Key West, FL (R/T)
89A-Sedona, Grand Canyon NP
2012/2013 -FM 170-River Road, Big Bend
CO Rocky Mtn. NP
CA coast- Hwy 1, LA to SF (R/T)
2013/2014 Scenic 30A FL
2014/2015- Big Bend
2017- Santa Fe, Taos
Super Moderator
Join Date: Dec 2007
Location: Northern Catskill Mountains, New York State
Posts: 8,697
Thanks: 3,195
Thanked 3,112 Times in 1,766 Posts
Amen, Chahta.

.
---
Woodswoman
(a/k/a Mrs. BearBait)
2014 Honda CTX700ND, "Flicker"
Former rides
Cruisers: Victory Cross Roads, Kawasaki Vulcan 1500 Classic, Suzuki Boulevard C50, Suzuki Marauder 800
Scooters: Suzuki Burgman 650, Suzuki Burgman 400, Honda Elite 80
Senior VR Member
Join Date: Apr 2009
Location: Ottawa
Posts: 3,303
Thanks: 185
Thanked 388 Times in 341 Posts
amen!
---
Black 'n beautiful - 2004 Volusia - 2008 C90SE
You don't see a motorcycle parked outside a psychiatrist's office.
Teach us to number our days, that we may gain a heart of wisdom. Psalm 90:12
Senior VR Member
Join Date: Mar 2012
Location: Indiana
Posts: 18,876
Thanks: 1,592
Thanked 1,560 Times in 1,396 Posts
Very sad. I've stopped and spoken with a fair number of the inattentive or dangerous - kind of wakes them up. Of more concern is the number of times being on a bike has allowed me to stay out of the way. I've been run into ditches and front yards in my truck. Really insane.

Around here it is actually getting better. So many bikes on the road. Less tolerance for BS.

But it only takes that one, and I won't drive or ride in the city Friday or Sat evening.
Senior VR Member
Join Date: Apr 2011
Location: Tennessee
Posts: 2,893
Thanks: 266
Thanked 475 Times in 366 Posts
Saw a big burly guy sitting in the out lane in his truck, head down on phone, finally the truck behind him honked his horn and the big guy almost bolted into traffic. Stopped and held his phone out the window...to show the other driver he was texting so it was ok for him to sit there?????
---
CB350, TS400, Rebel, GS750, suzuki 650 savage, 2008 Blue & Silver C50 sold, 2007 Silver Ghost Flames C50
Senior VR Member
Join Date: Jun 2006
Location: OklaHumma
Posts: 2,685
Thanks: 576
Thanked 425 Times in 249 Posts
The problem is, people always feel like they can control it, "I'm a great driver. - I'm better at driving than every body else, I can handle it. - That sort of thing happens to other people but not me."
Senior VR Member
Join Date: Aug 2014
Location: Vienna, WV. 26105
Posts: 906
Thanks: 155
Thanked 176 Times in 132 Posts
Amen brother! I would love to be able to do more to prevent this but it is in the hands of the offenders and sadly, the majority of them won't stop until it affects them and then it just might be too late for some poor soul.
---
RIDE LIKE YOU STOLE IT!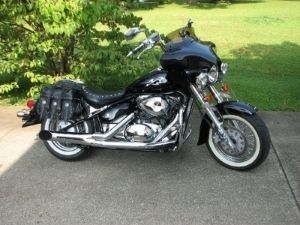 | | |
| --- | --- |
| The Following User Says Thank You to Mark's c50t For This Useful Post: | |