Senior VR Member
Join Date: Feb 2011
Location: Northern, NJ
Posts: 5,575
Thanks: 1,039
Thanked 650 Times in 504 Posts
Fast Bike on a Cold Day - Idiot
---
So Saturday morning it was time to give the new GSXR-750 a winter ride to keep her in shape. I looked out the window a few times at the road on a 37 degree morning and kept thinking, maybe not. But I did anyway. Warmed her up, and then took off up my street. 50 yards later, hit the throttle a bit.....too much.

The back tire wanted to race the front tire. Uh oh. Not good. Counter steer left, counter steer right, counter steer left. See Ya. The bike threw me off like a wild mustang. I came down on my left shoulder and left side of my head. And went sliding after the "cracking impact" along side my bike. Winter riding guarantees ATGATT. No doubt in my mind my full face helmet saved my life and all the gear worked as intended.

Never blacked out. Got up worried about the damage to my bike. Got up looked at it, spoke to the neighbor that came out to see if I was alright. I said I was even though my shoulder was killing me.

Walked over to the bike and tried to pick her up, but the pain in my left side wouldn't let me. So I turned my back on her, lifted her up with my right hand high enough to get my big ass butt in the game. Then turned, with pain mounted her (yeah baby), pushed my mirror back and rolled back down the hill to my driveway. Started her up and rode to the front of the garage.

Stepped into the house and pulled my helmet off with my right hand. Couldn't do much with my left. I decided to drive myself to the ER just a few miles down the road. I chose self service parking because I am too cheap for valet. Getting the parking ticket became quite the challenge and comedy.

Xrays show a broken collar bone. I thought I was going to pass out but I didn't. I waited to do it back in the ER while sitting in front of my girlfriend. I wish I had a video of her running and screaming for help. If you knew her well enough, you would agree with me.

Spent the weekend in the hospital waiting for surgery as an add on. No luck, too many more important trauma surgeries going on. Now I'm home and hoping to schedule for this week. The breake is near the shoulder and they recommend plates and screws.

Needless to say, the family full court press is on for me to give it up.

Thanks for reading.
---
Last edited by mfile2000; 12-15-2014 at

07:48 AM

.
Administrator
Join Date: Aug 2007
Location: Tannersville, NY (Northern Catskills)
Posts: 5,907
Thanks: 1,296
Thanked 1,588 Times in 942 Posts
Oh maaan, Myron, bad news to hear! Glad you weren't hurt worse, but sorry to hear this. Sending spare karma your way.
---
BearBait
'16 Can-Am Spyder F3-T (Triple Black)
| | |
| --- | --- |
| The Following User Says Thank You to BearBait For This Useful Post: | |
Super Moderator
Join Date: Jan 2005
Location: The Slate Belt
Posts: 55,914
Thanks: 2,246
Thanked 4,387 Times in 3,379 Posts
Oh man Myron. Hope you heal 100% Asap
---
| | |
| --- | --- |
| The Following User Says Thank You to beezer For This Useful Post: | |
Super Moderator
Join Date: Dec 2007
Location: Northern Catskill Mountains, New York State
Posts: 8,750
Thanks: 3,218
Thanked 3,130 Times in 1,779 Posts
Aw, crap, buddy. I'm so, so sorry to hear about this.

Thank God you were wearing your gear, and not doing the riding-in-a-tshirt thing like in the summer. Thank God what's wrong with you can be fixed. Thank God you're here to read this.

<<Gentle Hugs>> for quick and complete healing. Please keep us informed how you are doing. We care.

--Chris

.
---
Woodswoman
(a/k/a Mrs. BearBait)
2014 Honda CTX700ND, "Flicker"
Former rides
Cruisers: Victory Cross Roads, Kawasaki Vulcan 1500 Classic, Suzuki Boulevard C50, Suzuki Marauder 800
Scooters: Suzuki Burgman 650, Suzuki Burgman 400, Honda Elite 80
| | |
| --- | --- |
| The Following User Says Thank You to Woodswoman For This Useful Post: | |
Senior VR Member
Join Date: Aug 2014
Location: Vienna, WV. 26105
Posts: 906
Thanks: 155
Thanked 176 Times in 132 Posts
So sorry bro
Will say a prayer for a fast recovery. Stand strong against the press...I think you've learned your lesson...there's no point in getting rid of the bike now!
---
RIDE LIKE YOU STOLE IT!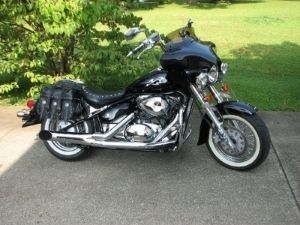 | | |
| --- | --- |
| The Following User Says Thank You to Mark's c50t For This Useful Post: | |
Senior VR Member
Join Date: Dec 2008
Location: New Braunels, Texas
Posts: 4,465
Thanks: 1,346
Thanked 896 Times in 672 Posts
Cold Tires... I hate when that happens. take care.
---
2006 C50c- crashed 2015, parted out
2006 HD Road King FLCRCI
1956 Royal Enfield Bullet 500 (sold)

2010-Guanajuato, Mexico
3 Sisters Loop-Texas Hill Country
2011-A1A-Ft. Lauderdale, to Key West, FL (R/T)
89A-Sedona, Grand Canyon NP
2012/2013 -FM 170-River Road, Big Bend
CO Rocky Mtn. NP
CA coast- Hwy 1, LA to SF (R/T)
2013/2014 Scenic 30A FL
2014/2015- Big Bend
2017- Santa Fe, Taos
Senior VR Member
Join Date: Aug 2009
Location: NC, Raleigh
Posts: 2,087
Thanks: 171
Thanked 195 Times in 174 Posts
That's gotta hurt! Glad you are OK otherwise, sounds like it could have been much worse. It seems the bad ones happen close to home. I hit a car less than two blocks from home many years ago, put me in the hospital for over six weeks...
---
2018 Indian Roadmaster
2007 black C50T (traded 2019)
1973 HD Sportster (sold 2009 - sigh...)
1973 Kawasaki (first bike)
My Gallery

| | |
| --- | --- |
| The Following User Says Thank You to bipestuff For This Useful Post: | |
Senior VR Member
Join Date: Jul 2012
Posts: 671
Thanks: 14
Thanked 120 Times in 96 Posts
At least you couldn't have picked a better time of year to crash.

Speedy healing my friend.
| | |
| --- | --- |
| The Following User Says Thank You to RedDogDarren For This Useful Post: | |
Senior VR Member
Join Date: Mar 2012
Location: Indiana
Posts: 19,519
Thanks: 1,633
Thanked 1,592 Times in 1,423 Posts
Sorry to hear this... sending karma for a full and speedy recovery..
---
I can head East or West, it doesn't matter as long as it's on 2 wheels.
| | |
| --- | --- |
| The Following 2 Users Say Thank You to scorpion46 For This Useful Post: | |
Senior VR Member
Join Date: Sep 2005
Location: Hot Springs, SD and other warm and dry places.
Posts: 8,260
Thanks: 138
Thanked 376 Times in 295 Posts
Good to hear you'll heal..........I cracked my right shoulder blade dumping a dirt bike one time (in the boonies about 7 miles from help). One handed lifting/riding a bike isn't easy as you found out.
---
Lead, or follow, but just stay out of my way.
Heaven is a warm, cozy place to sleep.
Wescalero Charter Member
| | |
| --- | --- |
| The Following User Says Thank You to Duffy For This Useful Post: | |