VR Member
Join Date: Jun 2014
Location: Brownsville Texas
Posts: 235
Thanks: 28
Thanked 57 Times in 46 Posts
Get a LAWYER. If the other guy got a citation, you will be covered. Call your insurance co. also and give them full details.

Good luck, GOD bless from a retired Firefighter.
Junior Member
Join Date: Sep 2014
Posts: 20
Thanks: 3
Thanked 9 Times in 4 Posts
This sucks
---
Ive been looking into lawyers...how do you choose... Ive never had to obtain a lawyer for anything. Google gives me a thousand options. but how to decide which is best???
I got a copy of the police report...The other driver wasnt cited. all the police report said is that I claimed that I layed the bike down because the driver pulled into my lane, and the driver claimes that he checked right, and then checked left to see me in the process of downing my bike
I freakin hate people... He knew **** well that it was his fault...he even told me "sorry, I didnt see you" WTF is wrong with people. Now im gonna be screwed because of someone elses stupidity. Not to mention, they declared my bike totaled... aside from all that, i wont ever ride again. My wife was finally getting use to the idea that I owned a bike. Now she cries everytime anyone even mentions one
Man, what am I gonna do...cant work for up to 6 months...have my third little one coming into the world in november...My insurance company said the only way I can regain lost wages is if the other driver is found at fault.
I really have a lot riding on the lawyer decision. Oh yea... and every lawyer that I have talked to said if I do sue for wages/injuries/suffering that I wont get paid for a long long time. Plus, most of em take 30% straight of of the top from what they win for ya... Im not trying to get rich or anything...I just want to be able to provide for my family.
Holy crap... when it rains it pours... Everyone keeps telling me "it could be worse" and "your lucky to be alive." They are probably right but Man this really sucks
Senior VR Member
Join Date: Jul 2008
Location: Second Star to the right, then straight on till morning.
Posts: 19,236
Thanks: 984
Thanked 2,394 Times in 1,653 Posts
Life lesson maybe??? Just be glad you're still around to learn it!!!
---
Current Bikes -->
-1969 Indian MX125 -10-2009 to Present
-2014 Honda CTX1300 - 05-2015 to Present
Past Bikes ----->
-1973 Yamaha RD350
-1991 Harley Sportster 883 XL
-2000 Yamaha XV125
-2003 Piaggio Fly
-2004 Suzuki LS650 - 04-2005 to 07-2008
-2005 Boulevard C50 - 07-2008 to 5-2012
-2012 Vulcan 900 - 05-2012 to 05-2015
-2008 Yamaha FZ6 - 11-2008 to 04-2017
-2006 Star Virago - 05-2011 to 06-2017
Senior VR Member
Join Date: Aug 2014
Location: Vienna, WV. 26105
Posts: 906
Thanks: 155
Thanked 176 Times in 132 Posts
I guess there's a lot to be said for a helmet cam / handlebar cam..... I am going to look into something like that now after hearing this horrible story. I'm so sorry for ya man. I will say a prayer that somehow you come out of this without too much more misery. Hang tough man!
---
RIDE LIKE YOU STOLE IT!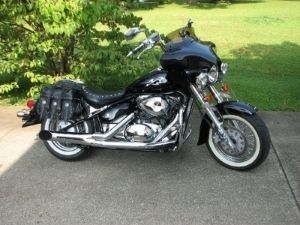 VR Member
Join Date: Dec 2013
Location: Columbus, Ohio
Posts: 78
Thanks: 31
Thanked 9 Times in 6 Posts
I don't know if you are a church goer or not but my church has helped many folks out who find themselves in such situations. I would suggest you call your church if you have one or talk to a friend who goes to one. I have seen miracles happen in some very dire situations. Hang in there...we are all pulling for you and many of us are praying for you!
| | |
| --- | --- |
| The Following User Says Thank You to Triggerfinger For This Useful Post: | |
I am so sorry to hear. But thank god you survived. It is not always the case. Im in a similar situation with a motorcycle accident on Aug 15, no wages, no disability, no health coverage....NO INCOME. the other driver however was at fault, but i get nothing until way way later. Meanwhile no income for bills. I have already been off 6 weeks and found out today, 6 more weeks. After 11 1/2 years, my job is not going to hold my position for me, just found that one out also. I am over $100,000 now in hospital bills and still being treated. So yes, get a lawyer if they think there is a case for you. Good luck with your case. Hope you have a good recovery!
Sent from
Motorcycle.com Free App
---
2008 C50T