Senior VR Member
Join Date: Aug 2012
Location: Erie, Pa.
Posts: 1,719
Thanks: 310
Thanked 351 Times in 267 Posts
Quote:
Originally Posted by
Deafvl800rider
View Post
Not me, I'm the exception. Check my posting with pix above your posting. You'll see both mufflers still in place when I removed rear wheel.
Get the bike up in the air... One thing we all have to be careful with antifreeze reservoir located under the bike which have tube coming out from bottom (bad design) and if anything hit tubing that attaches under reservoir, It'll break off plastic tubing. I broke mine and I had to repair it. So far it's holding well with modified plastic tube and really strong plastic glue. Every time I lift my bike, I have to position stand where it won't touch that sucker!!
#3.. Pry off Drive side dust cover.... What Dust cover!? I don't need em, I just literally threw it away. Cuz it looks nice without it..
I would do your way if I ever get flat in middle of the trip.
Deafvl800rider
Was Bear! said to remove the muffler! And I stand by my question.
Senior VR Member
Join Date: Oct 2011
Location: Boaz, Alabama
Posts: 652
Thanks: 495
Thanked 175 Times in 93 Posts
Something that may be helpful for breaking the bead. (I saw a video and tried). Take a square edged shovel, place it about an inch out from the rim, angle the shovel end vertical and sharply pounce on it. (Remove the valve core first). I broke the bead on the rear tire on the first shot, front tire, third shot. My buddies were laughing at me until it worked!( A few drinks were involved )
Senior VR Member
Join Date: Dec 2007
Location: Fort Worth, TX
Posts: 686
Thanks: 23
Thanked 49 Times in 45 Posts
I managed to break the bead by accident. I got a flat, had to "ride" it a couple miles, so took it real slow. It wasn't bad, running with turn signal on, about 10 mph. Nearly home I got a little cocky and took a corner at maybe 2 mph. The bead broke, and from that point it was very difficult to go forward. Hit gas, go 2 feet sideways & 2 feet forwards with feet out as out-riggers. Repeat... Yeah, the bead was completely broke. I did not reuse the badly worn rear tire, but if it were a simple puncture, I'd try the bead breaking that way, turning the handlebar whichever way helped break the bead the way I needed it. I hope this helps someone.
VR Member
Join Date: Jan 2013
Location: Western Colorado
Posts: 150
Thanks: 16
Thanked 8 Times in 7 Posts
Great Thread!
---
Great thread that was very helpful in changing a rear tire. Not as easy as some bikes but not bad. Good time to clean things up and lube.
I put a Kenda Kruz on mine becuase I don't want to do it very often.
VR Member
Join Date: Nov 2012
Location: Eastern Europe, Romania, Arad County, Arad City
Posts: 194
Thanks: 267
Thanked 40 Times in 27 Posts
VR Member
Join Date: Jul 2013
Posts: 79
Thanks: 0
Thanked 9 Times in 7 Posts
Nice write up on changing a flat tire. I have a bead breaker that will fit in my side bag. It's pretty small, and you use a wrench to tighten it, and it pops the bead without any real force. It has 2 jaws, and clamps down on both sides, and works wonders.
I will post a pic as soon as I find a pic of it.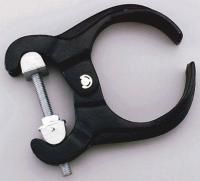 ---
Last edited by MrFreeze; 08-24-2013 at

02:08 AM

.
| | |
| --- | --- |
| The Following 2 Users Say Thank You to MrFreeze For This Useful Post: | |
New Member
Join Date: Feb 2016
Location: Belarus, Gomel
Posts: 5
Thanks: 0
Thanked 0 Times in 0 Posts
Thank You very much for manual. And for the trick with exhaust)))) Thanks
Senior VR Member
Join Date: Feb 2014
Location: Kansas
Posts: 3,680
Thanks: 338
Thanked 324 Times in 304 Posts
...well, I guess it is resurrection day...
---

Plan for tomorrow and live for today.
Junior Member
Join Date: Feb 2016
Location: wayside virginia ,usa
Posts: 14
Thanks: 2
Thanked 0 Times in 0 Posts
Quote:
Originally Posted by
dfinitlydisturbd
View Post
LOLZ!!

How do you break a bead on the road?

ah, carry a" c "clamp large enough. to fit the rear tire, will fit in saddle bag easy.works like a charm,just bought one at northern tools, for 10 bucks. did both of mine that way yesterday, I recently got a bike jack at same place, for 100 bucks on sale ,so was able to get bike in air enough, to get rear wheel out from under the rear fender,damn boat tail ha.
---
Ride it ,don't hide it ,,,
---
Last edited by 2 Lane; 05-03-2016 at

11:33 PM

.