VR Member
Join Date: Jul 2016
Location: Radford, VA
Posts: 94
Thanks: 5
Thanked 14 Times in 13 Posts
Friends of the Road 2017 - Coast to Coast Attempt on a C90T
---
The time has come to make a project thread/journal for my bike and my journey. Come next May(2017) I'll be saddling up and attempting to ride coast to coast and then home again. With life it's easy to say you're too busy or the budget is too tight to go visit all those friends and family that are out of arms reach. For the past few years I've been working towards making good on all those promises to come visit. I'm still about half a year out from departure, but since the bike has been acquired I wanted to document the changes and my planning. I've named my trek #FriendsOfTheRoad2017
It's been a goal I've set to attempt this cross country trek before I turn 30. I've invited all my friends that ride, but even for myself it's tough to dedicate this much time and resources. So I'll be mainly riding solo with a few stints that friends will join in on.
With my history of bikes it was tough to boil down what I wanted to ride. Coming from a sport bike world I was originally leaning towards an adventure touring style. With a heavy mileage count and remembering back to my drz days(that 2x4 seat was a joke!) I quickly changed my towards a cruiser. My Dad lent me his vtx1300 to test out which helped me decide I'd need around that weight/size. I've always done Suzuki's when I get into the bigger bikes so it was a no brainer to seek out a c90. Had to be 05 or newer as I wanted FI on this bike to help cope with the elevation shifts she'd be seeing. The Touring edition would also be a plus as it had most of the bells n whistles I wanted.
Plan was to purchase my bike this summer, get it setup, shake down all the cobwebs and have it ready before this winter. Had my eyes on a gold/white 2008 c90t, but it was on a local dealer's lot and just too pricey. I was waiting it out to get it more into my budget. Started to work up a trade deal with a GS500 I had in the collection. Unfortunately that bike was purchased before we could drop the hammer. Nearly decided to wait until winter to pick the bike up so I could get it well within the budget. Then almost too good to be true - a very nice '06 C90T popped up locally. Had been purchased new by a fella in WV who had hurt his back in the mines. So she's seen very little seat time and has plenty of life left. Only 3200 miles on the clock and this one was half the 2008's price and 10,000 less miles on it!
With the bike stabled I dug deeper into my route/itinerary. Below is my roughed out route. I have gone through state by state to highlight the main interstate routes, and rough stopping points. Then I'll go though again and plot some alternate routes with a little more scenery and pick my camping/hotel spots. Total I'll only have around 10-11 nights of camping/hotels between friends and family stops.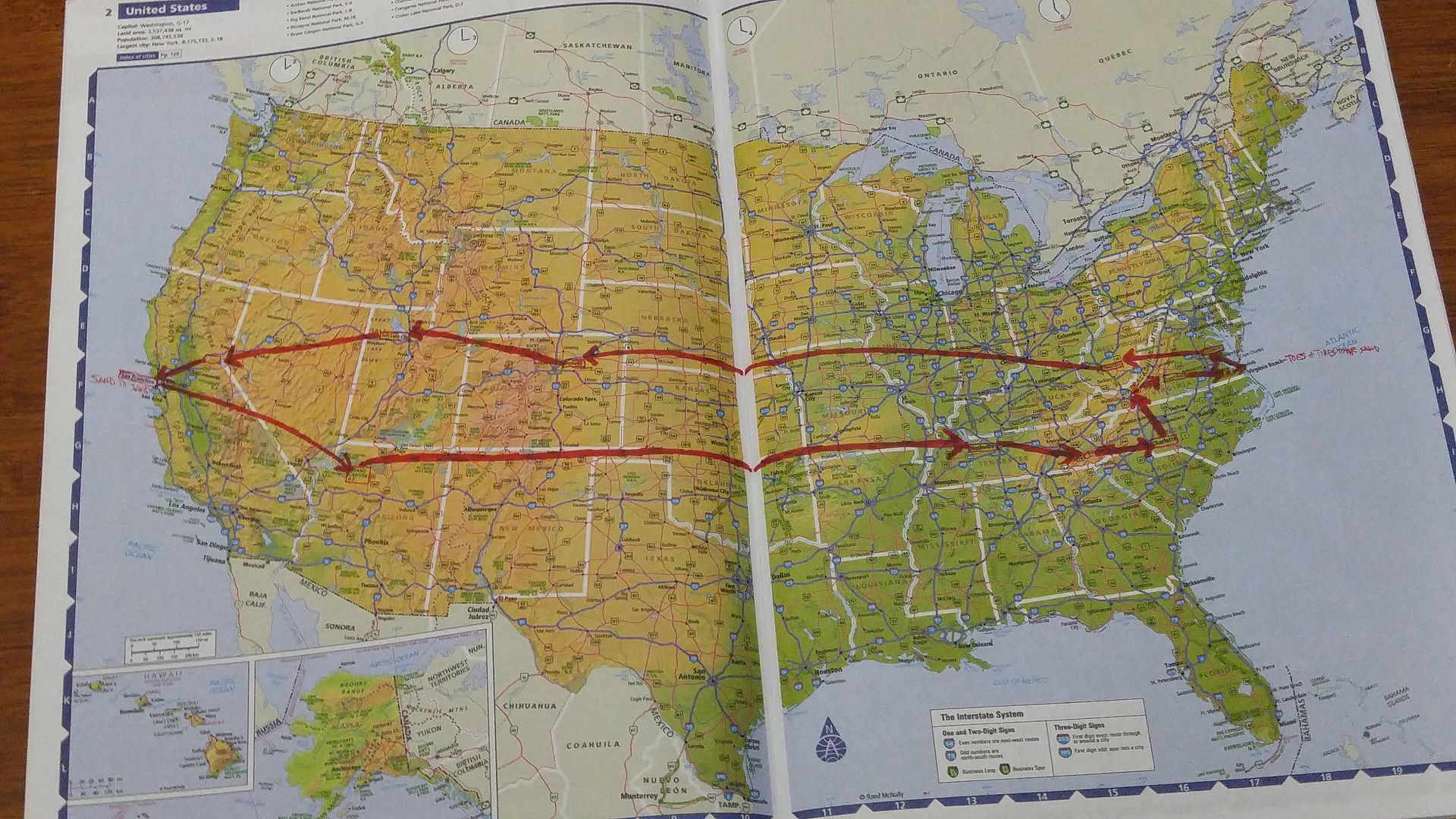 Most people that attempt this ride would scold me for having so much highway(funeral procession traffic as some would call it). Although it's a huge plus for me, but seeing the country isn't my goal on this mission. I'm doing this to enjoy seeing everyone in their home spot and get to enjoy any time I can get with them. So I will likely be seeing a lot of mile markers in attempt to maximize my down time. I definitely have some things on the list to do for my own personal enjoyment.
My last bigger research to do and decision to make is what I'll be riding for. Visiting friends clearly, but also I am planning to ride for a greater cause. After watching Long Way 'Round years ago - I've had the desire to ride for something more than just myself and my own journey. Haven't figured out exactly what it is I want to ride for, but I'm praying on it! If it was just to raise money - I would like to raise money for something tangible so my Church family came to mind. More than money though I'd really like is to just show up to put a smile on someone's face seeing this grungy guy roll into their town, even if it was just for a second while I'm passing through.
EDIT: So I've finally decided on what I'd like to ride for! Took a lot of time thinking and praying over it. In the beginning I really wanted to ride for an organization with maybe a couple stops to visit with locals along the way. Unfortunately after digging in more I felt for my first time attempting something like this(ride or charity cause) I wanted to start small and obtainable. From day one if I was going to raise money I was going to donate it to my church family, Radford Worship Center. There's no better people around that are pouring out unconditional love and support for our local area. I'm not looking to stand up in front of people and put on a show to raise money. though. Would rather gather donations quietly and leave 100% in the offering plate to aid in the great works that He and our church family are doing. I will be attempting is to raise 10 cents for every mile I ride. Netting right around $750 total. If you feel the need to give, please use the link below. Anything is greatly appreciated and all proceeds will go to those in need.
https://www.gofundme.com/friends-of-the-road-2017
My current ToDo list:
- Replace the stock ignition system with a quality part (keep the stock unit as my back up)
-Decide if the Gman fuel tank expansion is justified(tank + having to change stock pipe)
-Finish route/itinerary
-Keep working on gear/accessories/bike setup
---
Last edited by steezin_and_wheezin; 02-07-2017 at

10:14 AM

.
VR Member
Bike has been off the road since 2010 with it's last inspection in 2007. So first on the list was to get it inspected so I can test/tune. Passed with flying colors!
Next was fresh oils and her first little test ride around town. Changed over trans oil/filter and rear drive oil. Ride feels great, definitely needs new tar. I have a faint valve or valvetrain tick. Sounds much better after oil was changed, but still present. Going to pull up the break in maintenance and double check everything.
Adjusted my highway pegs to a spot my short legs can reach(I'm only 5'-6" on a good day) and took it for its first longer haul! Friend that's moving to CO this month was riding from our hometown in Southwest VA to his home in Lewisburg WV. So my Dad(vtx1300) and his Dad(older 1200 sportster) rode him(yamaha bolt) halfway home, split ways and we turned south while he kept north in WV. Was an amazing ride, definitely adding a throttle lock to the Need list haha. Only time I was off the bike to snap a photo, clocked about 150 miles and the C90 did a perfect job.
Found a deal good enough to make me jump on a new Mustang seat. I was really hoping to go away from the studded seats/bags as it just not my style currently. Price was right at $275 shipped for a brand new showroom model(no box). I have to slump a bit to reach the bars so I'll add some smaller bar risers soon.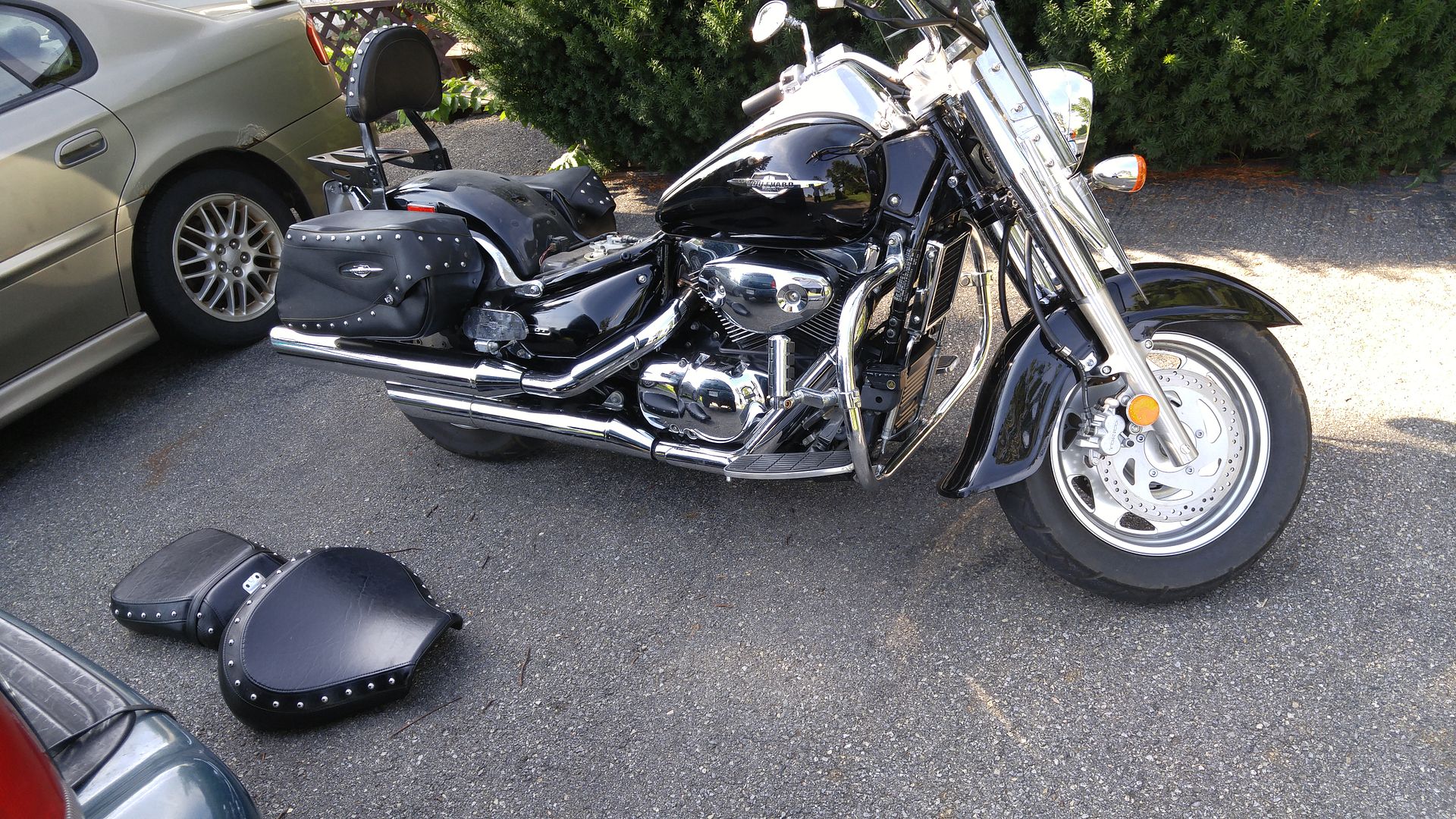 Very pleased with the seat, but still thinking of spraying the studs black. The previous owner has painted the back rack black since the chrome finish was bubbling. It looks great black so I'm hoping the seat studs turns out just as well. Going to use plastic dip more than likely so if I change my mind I can just peel it off.
VR Member
Stock bags sold! Need to make a decision on the new setup. Will definitely be hard/lockable bags, thinking of going with Viking bags as they seem the best in fit/form/function. Bike looks funny without the cargo hanging on the sides.
This has been a fun read so far. Even though it's geared more towards adventure tour style bikes, still lots of good info to be had!
My bar risers are in and should get installed here soon. Went with 4.5" and 1.5" drop back, hoping it'll be just right. I did go with a bit cheaper set since I'm not certain what position I'm after.
Placed an order for new tires and they should be getting installed next week hopefully. I normally do as much of the work myself, but I'll letting some techs do it this time. We had a Suzuki dealer move in town last year and I've had some great experiences with them. This will be my first time letting them work on one of my bikes though.. Definitely still nervous!
Ready to get these couple things sorted and then start logging some miles. Need to start this summer taking some serious hauls so I can be 100% on my daily riding range.
---
If yer binders ain't squeakin, you ain't tweakin!
Senior VR Member
Join Date: Aug 2012
Location: New Britski, CT.
Posts: 2,093
Thanks: 227
Thanked 350 Times in 244 Posts
Good luck. I'm jelly.
---
I have an '08 C50.
Everyone makes me ride at the back because of my Morton Violators.
Longest ride: 1241 miles in 20 hours 15 minutes
Interested in a replacement gas tank, in black, but I'm cheap
Senior VR Member
Join Date: Sep 2013
Location: Far NW burbs of Chicago
Posts: 776
Thanks: 34
Thanked 200 Times in 150 Posts
Welcome to The Forum, I got a couple suggestions for you, if you haven't already stopped by the C90/VL1500 Delphi site you should definitely stop in
http://forums.delphiforums.com/RLCMC
First and foremost make sure you do the mod 3 and if you haven't already bought the tires I highly recommend the Michelin Commander 2 for the type of riding you're going to be doing, also you mentioned you were getting a noise after you changed the oil. It's possible it's the fuel door vibrating, many people have been fooled into thinking it was something more serious. it's also possible it's the oil you used, I can tell you that the type of oil used is extremely important in these bikes, and don't believe what it says in the manual because it was printed incorrectly in regards to the quantity of oil in the engine. I highly recommend 4 quarts of Mobil 1 15w50 full synthetic and if the noise is coming from your valves it will go away if you catch it quickly and you begin using the correct oil. PS it's cheapest to buy in the 5-quart jug sold at Wally World.
---
Don't be a dummy and ride unprotected, it's like picking up a prostitute without bringing a condom along for the ride.
Rock the gear all the time ATGATT....
People that I have purchased things from that were great to deal with......mtmous, mrfreeze, rgiess, wiseguydave, rvcycleguy, cdubl, ThePostman, zfmrchnt, jaster1138
People not to buy from ......
2006 C-50-C Pearl White W/Ghost Flames
2005 C-90 Black W/Blue Flames and Skulls
2000 GZ-250 Green with Silver Accents
---
Last edited by crashtestdummy; 08-23-2016 at

04:44 PM

.
VR Member
Thanks Crash!! I hadn't heard of the mod 3, but have added that to my list! I got a set bridgestone exedra max, but man those commander 2 reviews sound promising. I'll make a note of them for next time. Plan is to have a new set just scrubbed in as a near my departure date. I will be changing the oil again soon to double check everything, will go with your suggestion on type/quantity. After getting more familiar with the bike - I believe the noise I notice may actually be just the injectors firing. Not use to that on 2 wheels!!
New tires were installed this week and the bike is riding like it should. Before I could tell the aged tires were holding it back. Good enough to get rolling, but not safe for much riding. Since this is my first cruiser - I went in blind and asked my guy at the Suzuki dealer to give me his best in his opinion. He ordered me a set of Exedra max. Read some reviews and felt it was a solid choice with reports of good mileage and consistent wet/dry handling. I'll be testing these with the thought in the back of my mind on making final decision for my cross country tire. For now the handling is much friendlier, found myself scrubbing the floorboards with minimal effort. Must remember I'm not on one of the sport bikes!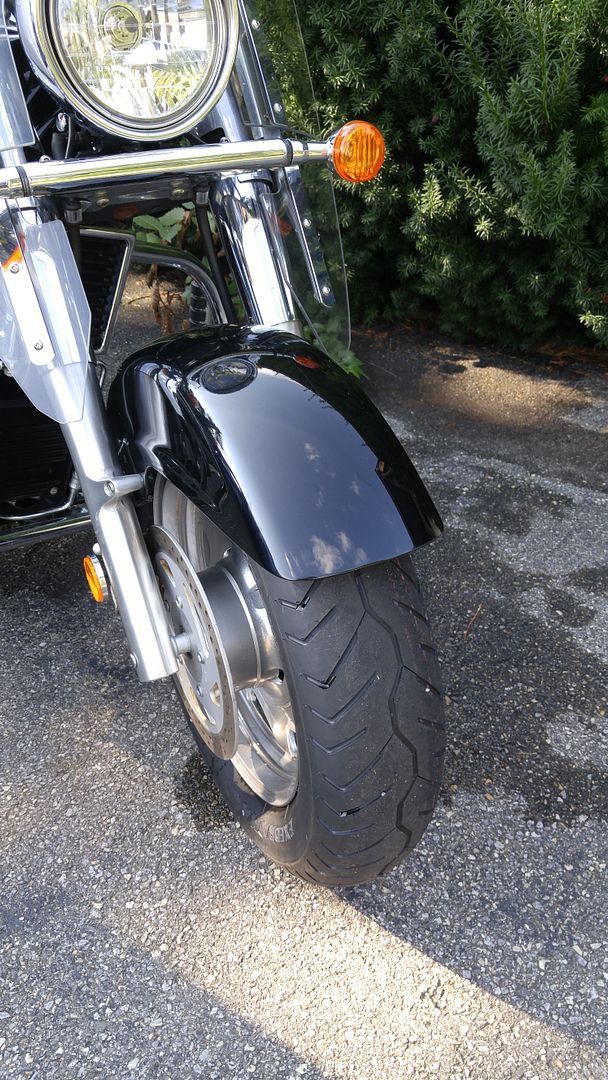 The deeper I get into my route planning the more nervous/excited I get about it all haha. I have one friend that is thinking about trying to ride with. I welcome anyone that's willing to put it all out there with me. My dad has said he's going to try and take a week and ride with. That would mean he would get to ride to the east coast, up to his dad's and then a couple days towards CO before having to turn back. Friend in CO wants to ride out and maybe crash one night with me, ride to his place where I'll be resting a weekend, then ride me out to the co/ut border. A riding partner would be a blessing, but I've made the mistake of relying on a fellow rider before.
In May of 2014 A friend and I took our first longer moto rides. Him on his cbr600 with his gf and me on my gs500. On the ride home my chain blew off five hours into a seven hour interstate ride home. All I could do was watch his girls butt ride off as I flashed my lights to catch his attention. For those that know the area - I was half way up Fancy Gap Mountain on i77 north. Cell phone? Dead, I was just leading for the first 4 hours and tunes drained it.. Daytime? Negative, sun just setting(good view though). Warm weather? Nope, a freak cold spout dropped the temps to just about freezing. Being I was on a beach trip no good under layers were packed. I had two spare clip style master link, but no spare chain. Also the last clip style chain I have ever bought. Dark at this point and with the closest exit miles in either direction I sat stranded for 2 hours. Well, not sat. With my headlights throwing high beams on me, I did the "Broke down, please help" dance for what seemed like an eternity. At the point I was losing my mind and all faith in humanity. I hear a voice ask if I was OK. Startled, I turned a 180* and there was a young man peering back at me. I must have looked insane, but he repeated himself, "Are you OK?" I slowly responded with immediate appreciation for stopping. Asked if I could use his cell phone and he replied it was in his truck. So we walked up the shoulder to where his girlfriend had pulled off past the end of a guardrail. On the way I spilled my guts and probably thanked him a hundred times. He said he was asleep in the passenger seat, but his g/f spotted me, stopped immediately, and woke him up. He said he rides and they never leave any rider behind, even if they're a stranger. Genuine good people. Still regret not getting their name to send my thanks. Called my dad to get the trailer and come scoop me up. They offered what snacks/water they had on hand, but that was the only other thing I was prepared with. Two bottles of water and a few protein/granola bars. While I waited for my dad to make the 2 hour haul. I had a few more amazing people stop to help. People like that just restore your faith in these fleshy creatures roaming the earth. One fella that saw me, went five miles to the next exit, doubled back ten miles, and then five more to get back to where I was stopped. I had already called for help, but at this point had gone through my snack bars and was a chilled nearly to the core after 3 hours in the cold. Was literally sitting with all my gear including helmet to keep warm. He invited me to sit in his car to warm up and gave me a couple more snack bars. Wolfed them down without much hesitation. Time was nearing midnight and I didn't want to be more a burden that I already was. He insisted I warm up a bit more before going on his way. By that time a safety service vehicle had found us and stopped. I thanked the gent again and he drove on north. Safety serviceman popped some flairs and we sat and talked in his heated truck. He was getting off work, but stayed as late as he could. Handed me a couple more spare flares and told me he would get the next guy on shift to come check in. I thanked him and on north he went. A little more waiting and I spot a familiar set of headlights slowing down to stop. Around 1:30am, my grinning Dad pulls over and first thing he said? "Almost eh?" Haha we chuckled and starting to get ready to load the bike. Up hill run to the trailer and dad forgot to grab my ramp. Luckily it was only my GS500(~400lbs), but still no easy task to hoist up and onto the trailer. Just as we were getting ready to heave.. The other safety serviceman showed up and gave us one more set of hands! Again we thanked him profusely and I told me to mention to his management my gratitude for this safety service. Through that experience I learned a hard lesson that I better be prepared. As prepared as I possibly can. So I strive to learn something new every day to cover every base I can think. I will always be open to any suggestions from someone willing to share their knowledge!
---
If yer binders ain't squeakin, you ain't tweakin!
Senior VR Member
Join Date: Feb 2014
Location: Tampa Florida area
Posts: 579
Thanks: 0
Thanked 0 Times in 0 Posts
riding trip
---
This has been an interesting read and sounds like you are getting your advance planning together.
I just came thru Fancy Gap last week. I've traveled all over the country and I fell in love with the gap on a trip to Myrtle Beach. I rolled off the mountain just as the sun was rising. I'm going to be cremated when I croak and my wife has promised to scatter me between the 7 and 8 milepost on 77. The only thing I asked of her was to make sure the wind was blowing across the valley so I didn't end up in some Freightliners grill in a truck wash in Charleston !
Good luck on your endeavor and if you get down Florida way,look me up.
Ride safe
Senior VR Member
Join Date: Apr 2009
Location: Ottawa
Posts: 3,303
Thanks: 185
Thanked 388 Times in 341 Posts
Well done on getting the bike ready. One thing you haven't mentioned was additional lights/light bar. Lights can be very important especially if you get caught having to ride at night.
---
Black 'n beautiful - 2004 Volusia - 2008 C90SE
You don't see a motorcycle parked outside a psychiatrist's office.
Teach us to number our days, that we may gain a heart of wisdom. Psalm 90:12
VR Member
Haha good call on the wind direction Harold! That sounds like a top notch way to be put back to the earth!!
I have done a little thinking about lighting Midnight, but haven't made it that far in bike gear to make any moves on it. I'll likely go with some small LED running lights as opposed to a full light bar. Wanting to keep the electrical loads low on this one. As of now I plan to ride days and rest nights, but we all know how that goes! So I'll likely do some sort of extra light setup. Thinking about it now, I don't think I've ridden the new bike in the dark at all. Need to get out there and see how the stock lighting looks asap.
Yesterday I finally got the correct hardware for my cheapo bar risers. After looking closer the threads in the risers were garbage.. I dropped them on to test position and will be getting a solid set asap. I think the 4.5" riser with 1" pull back is just about right though. I would like a little more but that size is already pushing the limits of the stock cables/hydraulic lines. Don't really want to get into extended cables and what not so I will likely stick with the same riser dimensions. Reminder to myself- measure up dad's risers on his vtx.
Quick tool session after work;
Every single plastic dress up button broke off in the clamp bolts haha..
A little pb blaster and they loosened right up
Riser on and feel good, seem to clear the tank nicely at both sides of the steering locks. No test riding as unfortunately the threads were so garbage they wouldn't even hold torque. Opened a return with the seller and hopefully will get my new(and quality) set ordered by the end of this week. Have the stocks still to fall back on, but leaving cheap ones on to motivate me into buying my new set.
Once the final risers are bought and installed I'll be looking at picking up a set of lockable saddle bags.
---
If yer binders ain't squeakin, you ain't tweakin!
Senior VR Member
Join Date: Sep 2005
Location: Hot Springs, SD and other warm and dry places.
Posts: 8,228
Thanks: 138
Thanked 373 Times in 292 Posts
Sounds like an awesome trip............it looks like you don't really need any ride suggestions. After riding all over the great western part of the US I'll just say, don't be afraid to take breaks and chill. That kind of riding will be hard on the body even if you're younger. Enjoy.............
---
Lead, or follow, but just stay out of my way.
Heaven is a warm, cozy place to sleep.
Wescalero Charter Member