Senior VR Member
Join Date: Apr 2011
Location: Tennessee
Posts: 2,893
Thanks: 266
Thanked 475 Times in 366 Posts
Nice Read! I want to do this you are just 2 years early!!!
---
CB350, TS400, Rebel, GS750, suzuki 650 savage, 2008 Blue & Silver C50 sold, 2007 Silver Ghost Flames C50
Senior VR Member
Join Date: Nov 2007
Location: Grand Lake Oklahoma
Posts: 2,494
Thanks: 6
Thanked 190 Times in 118 Posts
FYI, PhatRisers are good risers in 3 or 4 different sizes. I've used the Phat2 for years and the quality is very good. Fit the C90 well.
---
2012 Yamaha Roadstar
2008 Suzuki C90
---
Last edited by mtmous; 09-14-2016 at

11:50 AM

.
VR Member
@ Duffy - Thanks for the words, this trek will definitely be testing me in more ways than one!!
@ Desim - Who knows - I may be up for another in two years time! Thinking a north to south would be interesting if I could stomach the drastic temp changes. I'm more ok with the cold, get pretty grumpy in the FL heat though
@ mtmous - 'Preciate the suggestion! I'll look into those for sure.
I picked up another set of cheaper risers to finally get a feel of riding with 4" rise / 1.5" pull back. This set went on much better with better looking threads. Unfortunately I bought bolts that are a hair too long.. Hahah just can't win with this one. Need to sort through some of the loose end projects I have going on so I can focus in on this bike.
Slapped a couple washers in to space it out and got the risers installed. I'll definitely hack off a bit of the bolts or get some shorter ones to finalize the install. First impression were good on my short commute into work. The reach is much better for my size(5'-6" on a good day), but the throttle cables end up being a bit tight. I'll get some slight revs if I turn the forks to right side steering lock. I'll look into reroute/adjusting them to relieve the pressure. Brake lines and other wiring seem to play ok with the new bar height. Glad to get squeak by with stock cables/hoses! Looking forward to getting some longer rides and see how my back holds up with the new setup.
My hard bags should be in tomorrow and will likely get mounted this weekend. Went with Viking Lamellar Slanted Leather hard bags. I am excited to get my hands on them once the UPS mang drops them off
---
If yer binders ain't squeakin, you ain't tweakin!
Super Moderator
Join Date: Oct 2004
Location: Ct,Columbia
Posts: 19,134
Thanks: 1,988
Thanked 3,272 Times in 2,120 Posts
looking forward to following this thread...word of caution tho...order a spare stator...c90's have this reputation for stators going bad...had a 2006... bougt it w/15k on the dial...brought it into my service guys to have it checked over, who I have used since 2004 and trust...told me while the c90 did have that issue...05-06 mostly...and usually between 15-30k...I asked if it would be wise to just replace it now...told me he wouldn't...he found that only 50% of his customers experienced the problem...sure enough soon after...18k... I was added to the experienced problem list...not a major or expensive repair but if your'e going to be traveling and the problem occurs you will probably incur less issues with a repair if you have the part available versus hoping wherever you take it, they have one in stock, assuming you won't be doing the repair yourself..if you are capable mechaniclly, then better yet. As for the rattling sound...probably the gas cap lid...another issue many had...line the lid w/some edging. Good luck. And enjoy.
---
Whats the big hurry...slow down and enjoy the ride!
VR Member
Excellent first hand info on the stator issues! Well.. Sorry to hear you were on the problem list, but good to hear some solid info from personal experience. I will definitely have a new unit(and gasket) on hand for a roadside repair.
Saddle bags showed up last week, unfortunately I didn't have time to get them mounted yet.
A quick size up with one sitting on the exhaust and I'm really liking the flavor of them!
---
If yer binders ain't squeakin, you ain't tweakin!
VR Member
Things are moving along little by little! Trying to spend as little as I can to keep my travel expense savings building up. New gear isn't cheap so I've been doing some bargain shopping.
First bit of gear to come in was my 60l dry duffel bag. I was hunting for a roll top bag, but the reviews and price of this one were spot on. Made by The Friendly Swede and so far I'm impressed with the construction especially considering it's price point.
Next a cheapo pick, tire plug kit. I'm still hunting for a hand pump that fits the rear wheel. My regular bike and hand pumps don't fit with the rear drive in the way. There's just not enough room to flip the pump's lock up once its seated on the valve stem. I'm still looking around for a good/small pump to carry with for emergencies.
Got a break in the rain that hurricane Matthew threw at us. So I pulled my Viking bags out and mounted them up. Went smoothly and I'm very pleased with them. Only complaint so far is they don't fit quite as tight to the bike as I'd hoped. From the side they are spot on, but looking at the bike from the rear they duck out a hair from top to bottom. Not much but enough to catch an eye, I'll nab a photo later.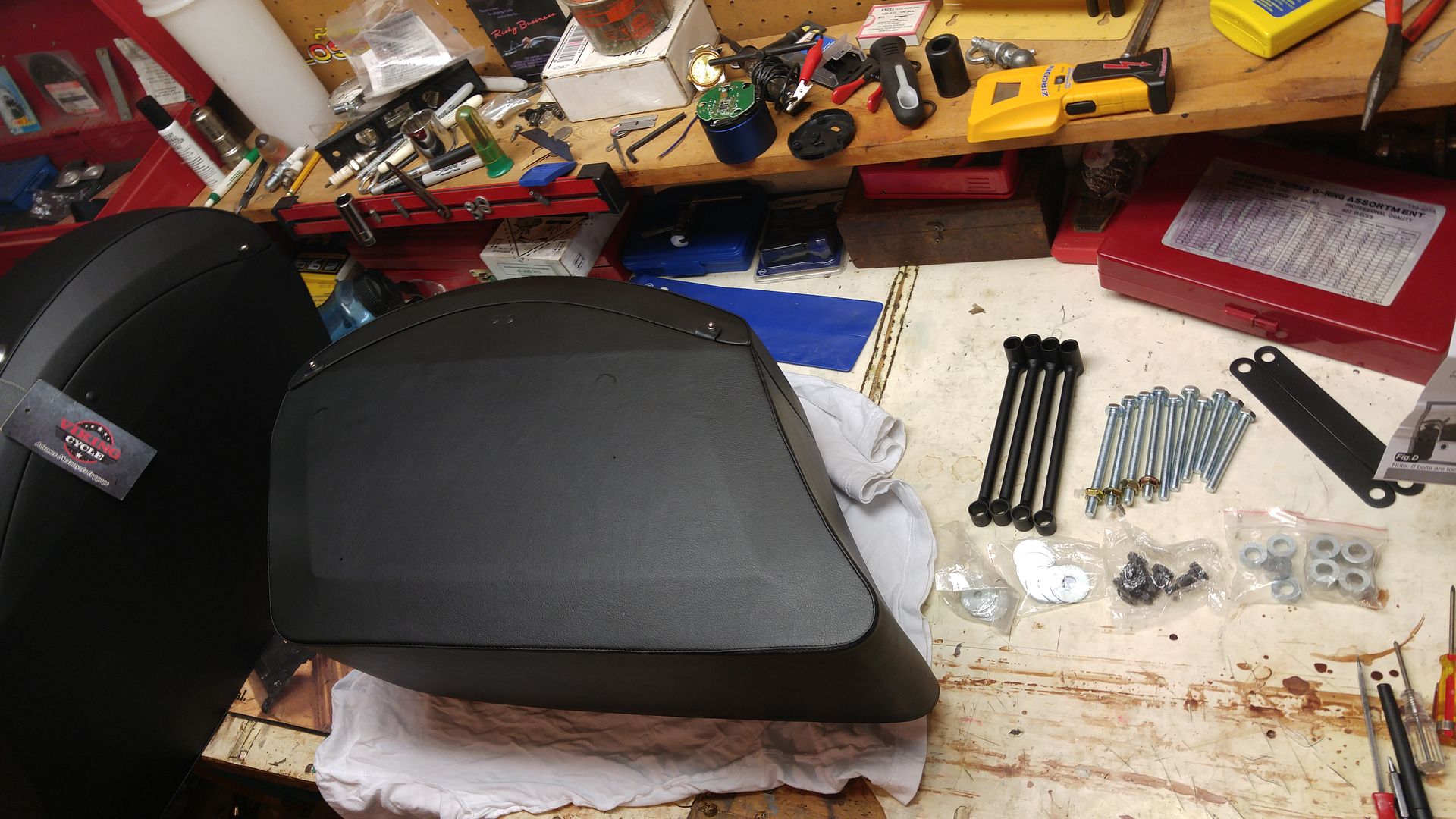 Measure 10 times, hold breath and drill once
Mounted and looking fiiiine
Test fitted with 60l duffel. I'm liking this more and more! Final idea is tent on top of duffel, modify passenger seat to be fix(no pivot) and mount Rotopax to back of pass seat. I'm thinking I'll carry a 2 gal fuel and 2 gal water packs. Going to strap a mock up fuel canister to the rear rack before purchasing to test the weight and slosh effect of 4 gals hanging on the rear
Big booty on her now.. I was barely able to get my old cover back on
Got a couple other things knocked off my ToDo list - bought shorter bolts for my bar risers, will get them swapped over soon. Also went to the DMV and had them make another ID for me. I'll be stashing a back up wallet deep inside my gear for emergency.
And got my first commute home in the rain week before last. Bike didn't miss a beat, but me in my work shwags weren't quite as prepared for the downpour haha..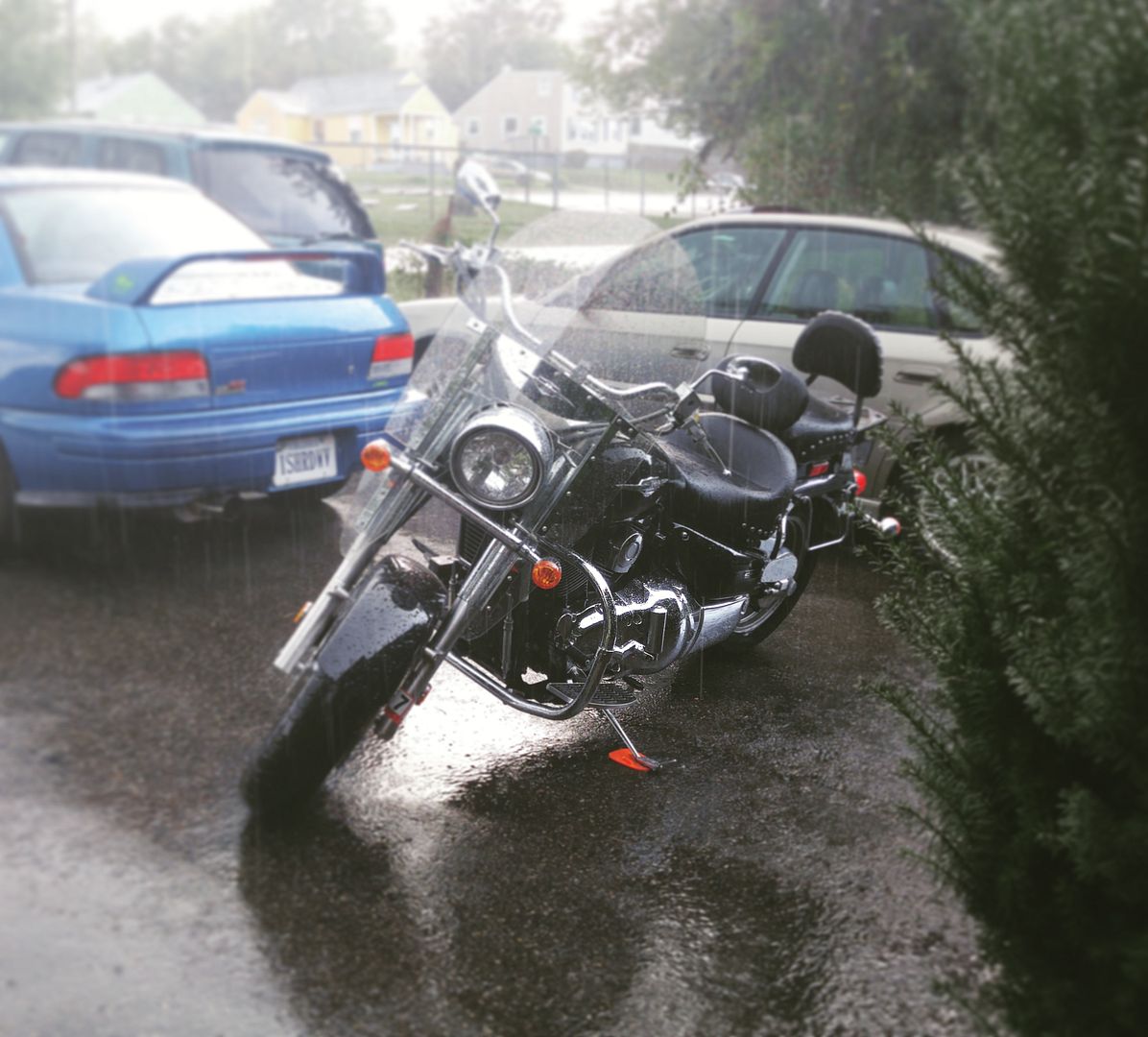 ---
If yer binders ain't squeakin, you ain't tweakin!
VR Member
I'm done with cheapo $35 dollar bar risers.... Did perfect for sizing up what I needed, but I'm 0 for 2 on a good set with solid threads. My bars were still sagging a bit so I went to do a final torque on the clamp bolts. Damned if one of them didn't strip out. I may have put a bit of grunt into it but shouldn't have been so much to strip the thing. Was miffed and didn't even pull the bolt to inspect.. Just left it and I'll open a return on the product today. Going to look into the Phatrisers and others around the $100 mark. Hopefully I'll have more luck with them.

Next thing I've been looking into is a bar/windshield bag, but finding something water resistant is a bit tougher.
---
If yer binders ain't squeakin, you ain't tweakin!
VR Member
Working hard to get my savings for the trip up. Aaaaand then I go and buy 95% of my needed gear.. Poof savings(plus some) gone! It will all be well worth it though, excited to get it all in and maybe a test ride/camp before the cold sets in. Wanted to do some more research/testing on camping gear(tent, pag, pillow, and bedroll) so that's pretty much the only remaining gear to purchase. For now I'll use my current tent/pad/bag for any test trips.
Also cut up my small map and made a play by play flip book to finish planning on. Pages have been trimmed/copied/organized, but I still need to transfer my route and backup routes from my main map.
Got a second to tinker on the bike as well. Confirmed the bar riser's thread stripped, out of return window so seller isn't taking them back. Please don't be like me and get cheapo's made my Krator and distributed by Kapsco Moto. You'll likely be disappointed in the quality/construction of the part and left with hot head due to Kapsco's customer service.
Decided I'd had enough of the chrome studs.. Not worth the effort to recover the seat or to pull/replace each stud with black one. So I grabbed a brush, some random paint and gave them all a quick couple coats. It'll likely fade and peel but that's half the fun. Will show our history with every flake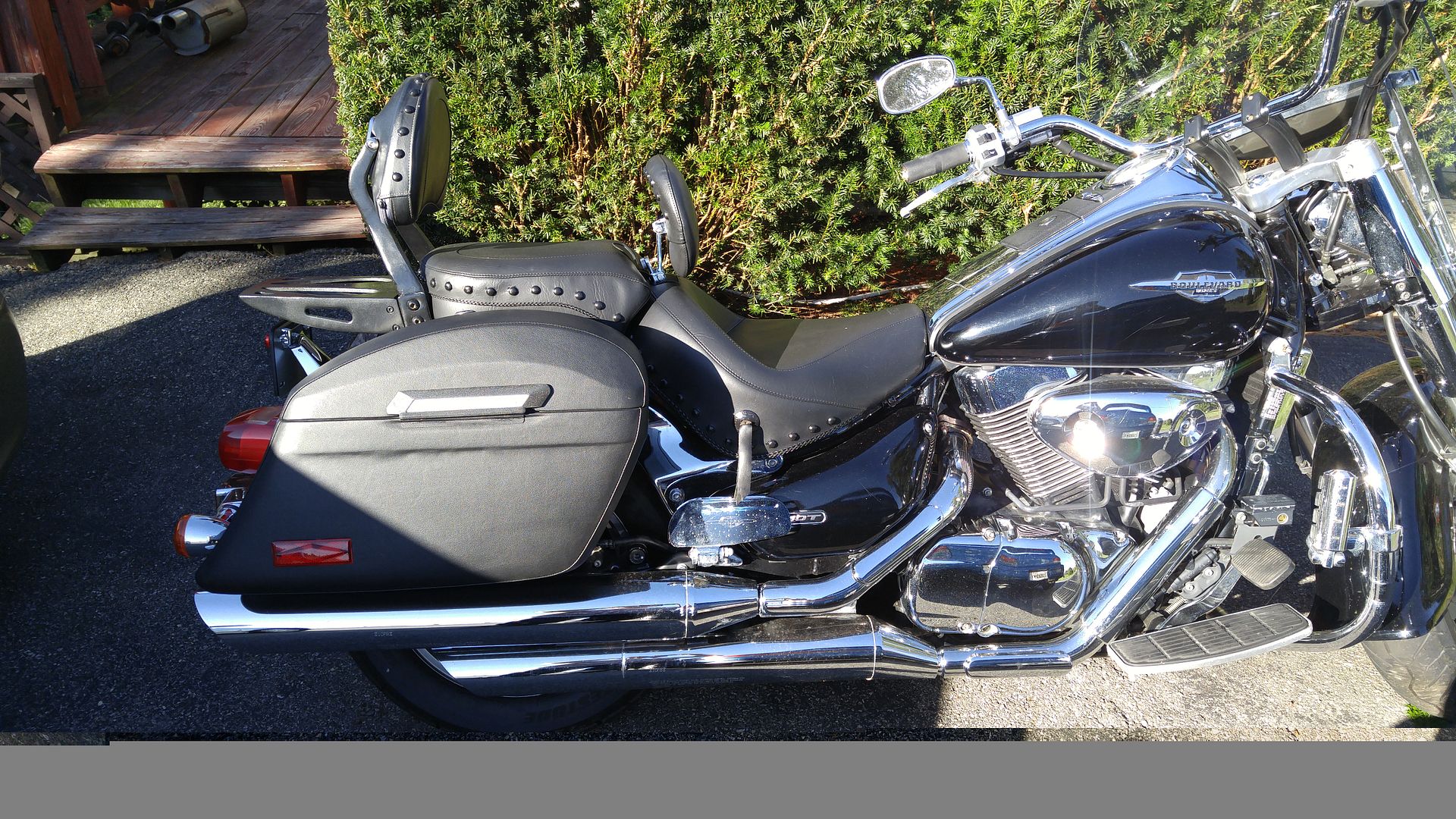 Came out decent in my opinion! Up close you can still see the studs, but once you're back 15ft it meshes together and studs are barely noticeable.
I'll hold off on listing all my new gear, but will definitely have some photos of the stash here soon
---
If yer binders ain't squeakin, you ain't tweakin!
VR Member
I got a random single shipment yesterday, rest of the gear should start showing up over the next few days.
Plan was to get a compact battery jumper and 1 more battery backup pack(for electronics). After researching I settled on a Gooloo 15000mAn unit to cover both. Should do the trick for me! Not sure if it'll live up to the manufacturer's product claims, but I've heard some decent reviews on it. I'll be giving it a good test myself to see how it fairs.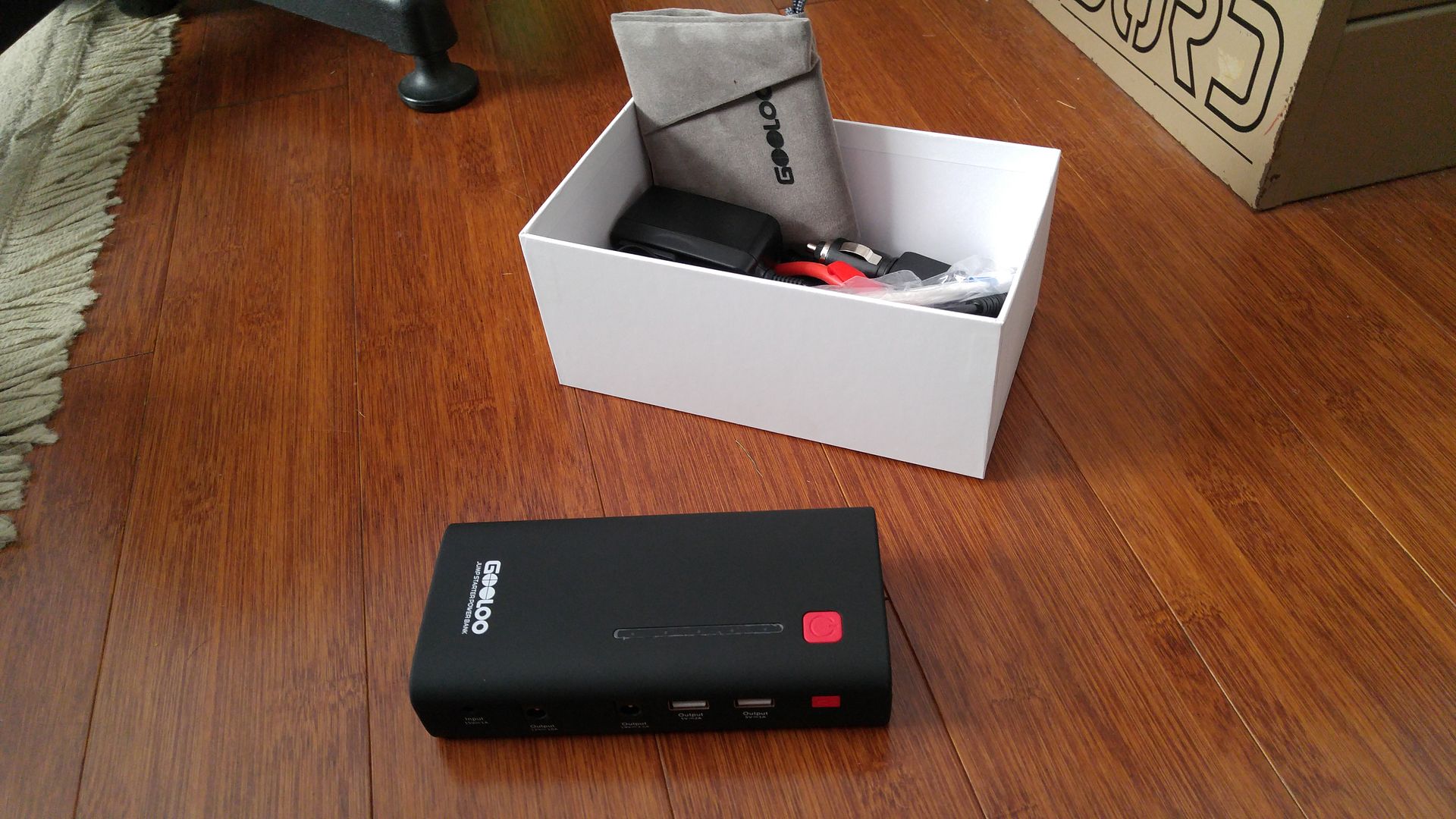 Still looking lonely in the duffle
---
If yer binders ain't squeakin, you ain't tweakin!
VR Member
Got the first wave of gear yesterday. Just a list and first impression here for now. I'll try to dig at every stitch and write small reviews on all the gear.
- Kuryakyn grips - nice beefy grips, similar to what my dad has on his VTX. Should work really well. I went w/o the throttle boss as I like to run a crampbuster to give me adjustability of boss location.
- Kuryakyn throttle lock - nice unit, again similar to what my dad has on his VTX(I did a lot of test riding on his bike and found his setup to be very comfortable.)
- Another cheapo set of bar risers. I'm a sucker for well priced goods, hopefully this set will live up to my expectations. Just can't bring myself to spend $100+ for risers when the $40 billet aluminum parts should hold up for me. We'll see if I'm in for another round of disappointment..
- Jetboil - used one in the past and it should serve MRE/Ramon noodle style needs just fine.
- New plugs and a couple oil filters for general maintenance.
- Seat cover - I had planned to use a shower cap or something cheap to cover my seat at nights. This cover is designed for the mustang seat w/ backrest and fits great(see photo below)
- Frogg Togg Leggs - These units are Heavy Duty! Was surprised, but not disappointed, by the weigh of them. Hoping they fit and pair well with with my H20 suit
Also had ordered a nice little inflatable/solar powered lantern for inside the tent. Unfortunately they sent me the spooky spider model
Wouldn't have minded it, but its a color changer as well. Correct one(clear with white leds) is shipped and should show up sometime soon
Seat cover fits like a glove. Rain is in the forecast today, so I left the main bike cover off to test the seat cover. Not expecting gore-text level dryness, but it will be nice if I wake up to a rainy day with a seat that's just a bit drier than my ass.
Rest of the gear should show up today. Going to run out to a local camping world and look at some tents/pads/bags in person before doing more research online. I'm always open to suggestions from you weathered road dogs though!! Nothing beats learning from those that have, "Been there, done that!"
---
If yer binders ain't squeakin, you ain't tweakin!