Super Moderator
Join Date: Oct 2004
Location: Ct,Columbia
Posts: 19,134
Thanks: 1,988
Thanked 3,272 Times in 2,120 Posts
Thursday…day 7
Last day before heading back tommorrow….wake up to cloudy skies w/a 30% chance of rain…we decide not to lazy around and by 10...other half is dressed and ready to go…I head to get ready and by the time I resurface the other half has changed from shorts and sandals to jeans and boots…riding boots…guess that pretty much tells me how she wants to spend our last day of vacation….
Head to her favorite place for breakfast…least I can do…..
10:30...Usually a 2-30 minute wait…why…who knows…just another breakfast spot…one of many lining rt 1.… but for whatever reason…she loves this place…
Luckily, we bypass the line being just the 2 of us, and they tuck us in a corner where we sit for 20 minutes before they return to take our order which eventually ends up on our table 30 minutes later…this is for breakfast right…
me an omelet…her… some type of scrambled egg with 1 almond joy pancake minus the whip cream…something about having to forego on the whip cream if she's going to fit in her new riding gear…50 minutes later and we are just beginning to eat…
We finally finish and begin our journey…its now noon….for breakfast…noon…ok….
**************************************************
We stay local with the threat of rain and begin to play hop scotch visiting antique stores every 20 miles or so along our ride….
where she browses and I take a moment or two to do some reading...
somewhere along the ride...we happen to pass this place and get off the beaten path to see whats inside....
while I look for a pin to add to my tank pouch…the other half begins her shopping for that new wardrobe she'll need for her new found passion…..
I wander about enjoying the grounds, decorations,
and whatever else just happens to be hanging about…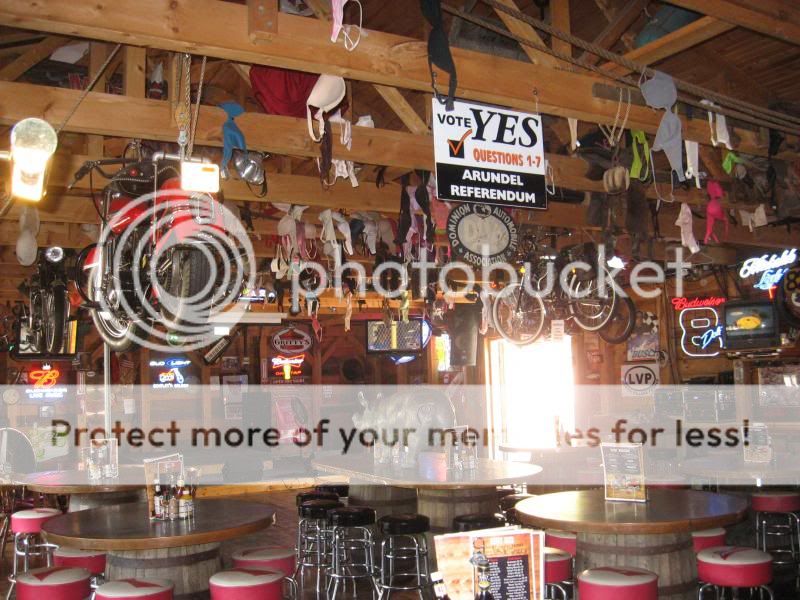 I finally return to see the other half has found something to her liking and while I offer some more suggestions,,, $80 later and we are back on our way…pretty expensive $2 pin….worth every penny….
We leave with the understanding we will be returning for supper there later that nite.
************************************************** **
Head north into the country and find the baron roads to our liking…our speed…no traffic…open road.
Finally head back home and 6 I/2 hours from the time we left. Another great day in the saddle.
**************************************************
so we share a coffee…and decide to head back to the
marginal way
for one last romantic stroll along the ocean
before heading back to Bentleys for something to eat…this time in the sante fe as night time begins to settle in.....
***********************************************
Night and vacation finish on a great note as wife tells me her first experience in a true biker bar becomes her no. 2 highlight of the week…no.1 highlight...needless to say..riding the c90 the last 4 days…
As we leave the bar to head back to our place, she finally admits to wondering why she waited so long….
I whisper in her ear as she holds my hand……
welcome to the world of riding babe……where every ride gets better and better.
She smiles..she gets it…she finally understands....
************************************************** *
Tommorrow we go home…its been a great vacation. A week ago I never would have thought the vacation would go the way it did, sharing the magic of the ride together...and experiencing our first nite out in a true biker bar… to the point where she even climbed on top of a table and rode a hog.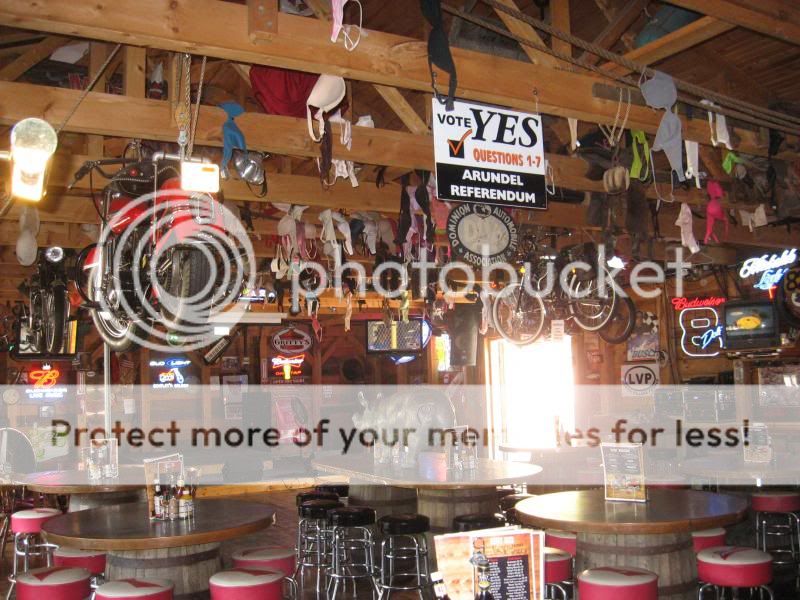 Like I said earlier…be careful what you ask for…I think we're both going to be in for one h#ll of a ride together...
Funny how things come full circle….
Where the vacation started ......
is where the vacation ended...who would ever believe it.....
************************************************** *************************************
One last note…
before we pulled out of the driveway to go home from the bar…she told me to
wait a minute…need to go back inside.. forgot to do something
…….
hopefully ....they live happily ever after.
************************************************** **
Its been fun …hope you enjoyed coming along for the ride… enjoy the rest of your summer. dennis & barbara
---
Whats the big hurry...slow down and enjoy the ride!
---
Last edited by DCinCT; 08-09-2013 at

09:03 AM

.
| | |
| --- | --- |
| The Following User Says Thank You to DCinCT For This Useful Post: | |
Senior VR Member
Join Date: Nov 2007
Location: Chicagoland
Posts: 6,843
Thanks: 564
Thanked 596 Times in 341 Posts
Awesome stuff, Dennis!!! Again, I am so happy that Barbara caught on to your passion. What better is there than shared experiences!!! Drive home safely, it's pouring cats and dogs today....
---
Carsten
2004 BMW R1150RT (sold)
2006 Yamaha Stratoliner S (sold)
2006 Kawasaki Nomad 1600 (sold)
2005 Suzuki C50 (sold)
Senior VR Member
Join Date: Nov 2008
Location: Southeast Massachusetts
Posts: 1,344
Thanks: 44
Thanked 324 Times in 230 Posts
You have patiently created a monster! Next thing you will know is that she does not want to sit on the back.
---
Keep your rubber on the road and your feet on the pegs and have a good ride.

Peace,
Bigbert

Suzuki vl800 Volusia limited edition 2004 5/2008 - 5/2019
Polaris Indian Chieftain 2017 5/2019 - present
Senior VR Member
Join Date: Feb 2011
Location: Northern, NJ
Posts: 5,575
Thanks: 1,039
Thanked 650 Times in 504 Posts
Best **** vacation I've been on for awhile. Thanks for taking me along!!
Senior VR Member
Join Date: Mar 2011
Location: Litchfield, OH
Posts: 1,827
Thanks: 163
Thanked 372 Times in 309 Posts
As if I was there, Thanks.