just a quick pic from my latest ride
---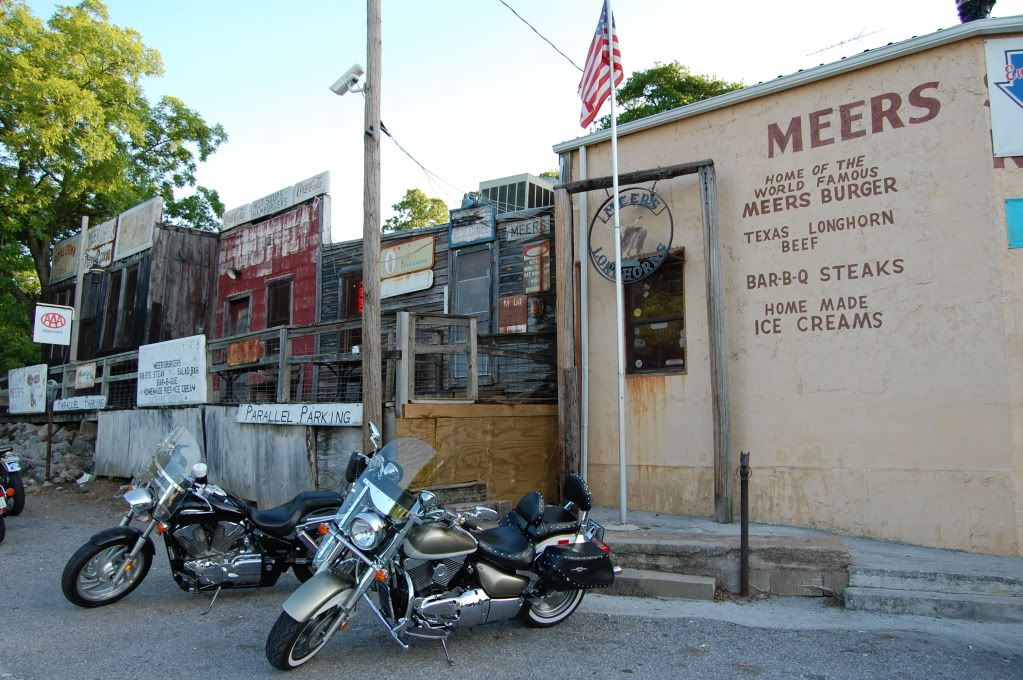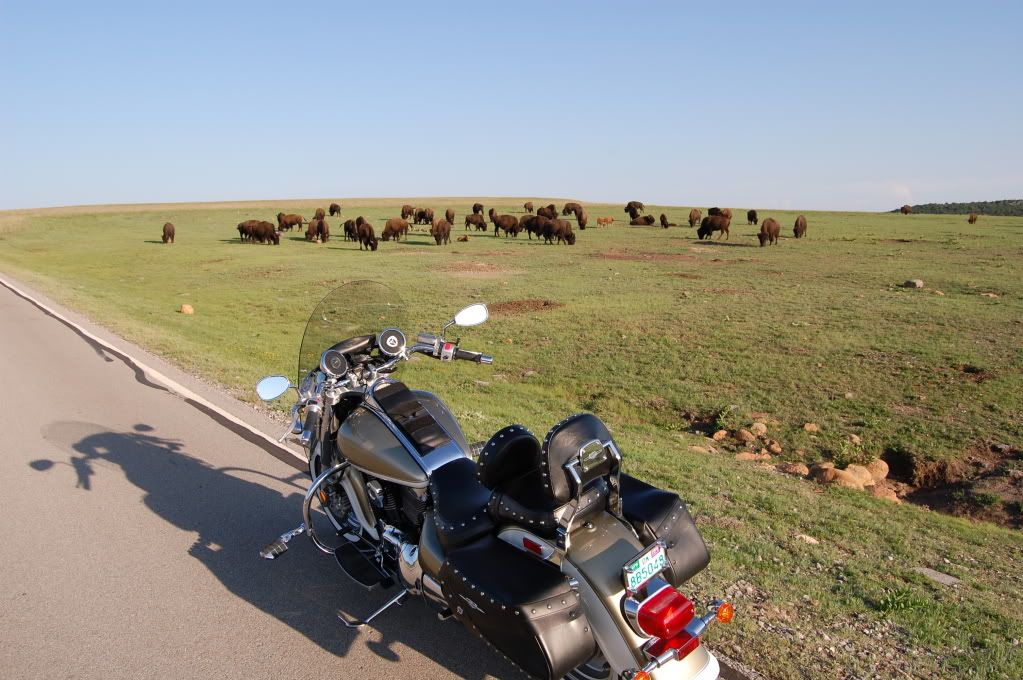 [/img]
Banned
Join Date: Oct 2004
Location: Witness protection program
Posts: 24,655
Thanks: 0
Thanked 12 Times in 11 Posts
Senior VR Member
Join Date: Nov 2007
Location: way out there in the Arizona desert
Posts: 7,112
Thanks: 15
Thanked 110 Times in 68 Posts
Like your 90. Man, that is some flat country, reminds me of N Dakota some. I note that there are no fences containing those buffs. They're free to roam the roads?
BTW....are Meers burgers
really
world famous?
---
'05 Vulcan 1600 Classic
'03 Volusia ( '07 to '10)
view
---
That view I admit isn't very flattering but behind me is the Wichita Mountains. I didn't capture it in this picture. Yeah it's a wildlife refuge so yes they are free to roam.
Oh, I forgot, the Meers Burgers are indeed World Famous. If you are ever in the Southwest Oklahoma area, you must go there. The place is obviously vintage which is the coolness of the place, but the burgers are incredible.
Senior VR Member
Join Date: Aug 2007
Location: AZ, Chandler
Posts: 4,099
Thanks: 3
Thanked 76 Times in 62 Posts
Nice pictures. It would be nice if you noted the location in case I get the urge for a "World Famous Meers Burger" someday.
---
-"CJ"
'05 C50T (03/07-09/07)
'07 1600
Ultra
Nomad (09/07-03/11)
'11 HD Electra Glide Ultra Limited (04/11-?) 103"/ABS
If you ain't
gliding
, you ain't
riding
!
Banned
Join Date: Oct 2004
Location: Witness protection program
Posts: 24,655
Thanks: 0
Thanked 12 Times in 11 Posts
Quote:
Originally Posted by cactusjack
Nice pictures. It would be nice if you noted the location in case I get the urge for a "World Famous Meers Burger" someday.
Right behind his bike, silly.
I know, I kind of messed that one up a bit, but I was trying to show the bike more than the restaurant but looking back it does look like a poster for the Meers burger. haha Oh well, I tried. For those that are interested, the restaraunt is located in the Wichita Mountains Wildlife Refuge in Lawton, Oklahoma. By the way, there is an adjacent town next to Meers called Medicine Park and it is way cool. All the homes are made of cobblestone and they have refurbished the entire town and it is "happening" on the weekends so if you want a way cool ride for the weekend come on down, or up, or over, whichever the case may be. lol There is a bike shop in MP also, called "Chaps My Ass" that is unbelievable and the owners are fun to buy from.
Senior VR Member
Join Date: May 2005
Location: IOWA, too far north
Posts: 18,341
Thanks: 38
Thanked 192 Times in 150 Posts
I wouldn't be braggin' 'bout having Longhorn steaks, and I'm from Tx.
true longhorns exist on scrub pickins and tend to be a bit on the tuff rangey side.
....now iowa corn fed beef, is another thing allll together...can cut those suckers with a fork.
looks like a neat place tho. thanks for sharing the pix
Senior VR Member
Join Date: Dec 2004
Location: CO, Fountain
Posts: 1,925
Thanks: 0
Thanked 1 Time in 1 Post
Ahh, yummy indeed. Those burgers are GIANT size to boot. When I was at Sill, we made a monthly lunch run out the back gate. Big burgers, lemonade in a mason jar, and don't forget the pie.
---
'05 Black C50, Debadged, Plate Laydown, Tank/Fender Edging, "Sanos" Tank//Fender Ties, Mapam Sissy, Mustang, Show Chrome Risers, 21 Black Fats/lowers, Pass Peg Swap, 2.5" drop,XXXL Futura bags, Street Rods, Lonnie's Backrest.