VR Member
Join Date: Apr 2011
Location: Westlake, Ohio
Posts: 208
Thanks: 65
Thanked 8 Times in 6 Posts
Mustang Seat - options ?
---
---
Senior VR Member
Join Date: Jan 2005
Location: IL, Western 'burbs Chicago
Posts: 6,285
Thanks: 7
Thanked 641 Times in 536 Posts
A lot of people use the mustang with Lonnie's backrest for the Mustang seats. I have the Mustang Vintage seat but only solo, but I do use Lonnies (grasshopper) backrest with it. It is just a different bracket then the stock bracket, Mustang attaches to the bike slightly different then stock. I also use his backrest on my Nomad with my Corbin solo seat. The Mustang backrest is nice but if you want to save money go the Grasshopper route.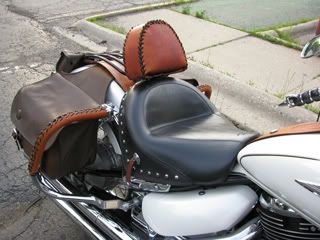 ---
Jen / "All leather, no lace"
2000 Nomad 1500 | 2003 Volusia | 2014 Stryker
Bike Pics:
http://www.volusiariders.com/members...ndesigner.html
---
Last edited by Jendesigner; 11-15-2012 at

04:31 PM

.
| | |
| --- | --- |
| The Following User Says Thank You to Jendesigner For This Useful Post: | |
Senior VR Member
Join Date: Oct 2006
Location: BC, Canada & WA state
Posts: 1,923
Thanks: 73
Thanked 105 Times in 90 Posts
The problem that will be facing is they changed the frame in 2009 and older mustang seat will work but they need to be modified. I have done both ways and it is better to get the seat with the back rest already in it.
Sent from my iPhone using
Motorcycle.com Free App
---
2011 to ? - Burgundy 2009 starting 6 kms (1 mile)
2006 -2011 - Silver and Grey 2006 - 60,000 kms (37,500 miles)
VR Member
Join Date: Apr 2011
Location: Louisiana
Posts: 199
Thanks: 79
Thanked 48 Times in 30 Posts
Interesting thread.

I'm also thinking seriously about a Mustang seat with a backrest for my '09.

Another concern of mine is the fit of the seat with my Show Chrome solo rack.

I'll follow this one.
Senior VR Member
Join Date: Jul 2011
Location: Port Charlotte Fl
Posts: 1,966
Thanks: 52
Thanked 334 Times in 259 Posts
I recently did an extencive search and purchase of a mustang seat for my '03 VOL. Best price I found was $354.00 from Two Cycle Guys. The one for the '09 is the same. I'm gonna try to modify my Grasshopper bracket to fir it. If not, I'll buy a new one for the mustang from grasshopper and sell the one I have.
---
I know you believe that you understand what you think I said but I'm sure you realize that what you heard is not what I meant.
'05 Honda VTX 1300R Champion trike Kit. Mustang Seats and Backrests, Kuryakyn ISO grips, pegs, floorboards, shifter and brake peddles, Cup Holder. Universal passenger arm rests, Wolo horn, Vista Cruise, Shark 600 watt stereo, ShowChrome Risers, lots of chrome.
http://www.break.com/video/ugc/keywasted-1912477
Senior VR Member
Join Date: May 2008
Location: Silverdale, WA
Posts: 1,945
Thanks: 124
Thanked 328 Times in 263 Posts
I have the Studded Mustang Wide Vintage Two-Piece just recently added the removable Grasshopper drivers backrest. Really like the combination. For the wife's additional comfort and additional carrying capacity I added the
MUTAZU Motorcycle Trunks
with accessory wrap around backrest and LED lighted Spoiler. My LED lighted Spoiler is in the moving brake light mode which really helps cars to notice when I put on the brakes. Their following distance often gets bigger when I brake.
---
The United States of America, founded on the principle that "all men are created equal; with unalienable rights; that among these are life, liberty, and the pursuit of happiness"
Happiness
2007 Red & Black C50
Happiness
VR Member
Join Date: Feb 2012
Location: New Jersey
Posts: 127
Thanks: 12
Thanked 31 Times in 24 Posts
I chose the mustang back rest. Like others the back rest is adjustable. I love the comfort of the back rest
---
Mike
2012 C50T DJ
Clearwater LED's
Mustang Seats
Cobra Pass Floorboards
Senior VR Member
Join Date: Mar 2012
Location: Indiana
Posts: 10,928
Thanks: 1,205
Thanked 1,199 Times in 1,044 Posts
I have the Mustang 3 piece seats and the wife and I love them. Once you ride with a Mustang, you'll wonder how you every rode with a stock seat.
---
I can head East or West, it doesn't matter as long as it's on 2 wheels.