Senior VR Member
Join Date: Feb 2015
Location: Worcester, MA
Posts: 446
Thanks: 136
Thanked 59 Times in 49 Posts
VR Member
Join Date: Sep 2014
Location: Loveland, Ohio
Posts: 212
Thanks: 1
Thanked 22 Times in 20 Posts
Drained the old Mobil One, installed a new Dimple Products magnetic drain plug, installed a new Amsoil oil filter and refilled with Amsoil Metric 10W40 synthetic motorcycle oil. Just need some warm days now.
---
2006 Suzuki Boulevard C-50
Super Moderator
Join Date: Jul 2009
Location: Olds Alberta
Posts: 2,766
Thanks: 221
Thanked 785 Times in 586 Posts
Still looking for the "710" plug for the top of the engine.....

It's easier to find a 420 butt.....
---
>
>
>>
06 C50C (Special Edition)
lowered 2" --- Metzler 880 www's
OEM lightbar --- Cobra EG --- Sagebrush chaps
DJ drive --- mustang 3 piece seat --- CW Tach
Vista Cruise --- 4X1.5 pullback risers
CYFHMN member ---
New Member
Join Date: Aug 2016
Location: Hamilton Ontario Canada
Posts: 8
Thanks: 0
Thanked 0 Times in 0 Posts
holy crap. i thought i would pop on here and see what brand of oil would be best as i am about to change oil. But after going through this thread... my head is starting to hurt. lol. However.. i did learn a bunch of stuff. Thanx to everyones input, it does help guys like me who isnt sure about all the details but likes doing things myself. I love this forum.
New Member
Join Date: Feb 2017
Location: Mims, FL
Posts: 6
Thanks: 0
Thanked 0 Times in 0 Posts
I just returned from Walmart, was looking for the Rotella oil that has gotten so many good reviews from the motorcycle forums. I found something interesting. Castrol GTX has Diesel oil also in the 15w-40 grade and it was only $9.88 a gallon. As far as I can tell, it should perform as well as the Rotella. So I am going to give it a try for my next oil change in my Intruder LC 1500. I can always use it in my lawn equipment if anyone thinks its a bad idea. $9.88 per gallon of Castrol GTX Diesel oil, wow. I used Castrol GTX in my old Acura Integra back in the day, and it had over 300K miles and pulled hard to redline till the day I sold it. I remember the day I pulled the valve cover off and it still looked clean as a whistle at 300K miles, loved that car.
---
Current Bike:
1999 Intruder 1500
Past Bikes:
CR125
YZ250
GS650
DRZ400
Current Vehicles:
04 Lexus ES330
98 Mazda MPV 4x4 All Sport
I love anything with a motor, from mopeds, scooters, and quads, to crotch rockets, dirt bikes, and cruisers. Let's ride.
Senior VR Member
Join Date: Aug 2009
Location: NC, Raleigh
Posts: 1,960
Thanks: 161
Thanked 189 Times in 171 Posts
Quote:
I run that Mobil 20w50 in the summer. It's normally 11 bucks or so at Autozone but I got a stupid deal at the beginning of the season. It was like 6 bucks a quart so I bought all of them, went to another Autozone, and bought all of those too.
What he said!
---
2007 black C50T (current) - PGR Member
1973 HD Sportster (sold 2009 - sigh...)
1973 Kawasaki (first bike)
My Gallery

Junior Member
Join Date: Jul 2016
Location: WV
Posts: 41
Thanks: 20
Thanked 0 Times in 0 Posts
I'm going to change the oil in my c50 today. Advance Auto has a crazy deal on 5 qts of Castrol Edge Titanium full syn with a K&N filter for $32 ($22) after rebate. Hell, the filter alone is $16.

Anyway, has anyone used this oil? I just wasn't sure if the titanium part would be considered a friction additive or something that could mess with the wet clutch?
Senior VR Member
Join Date: Jul 2008
Location: Second Star to the right, then straight on till morning.
Posts: 17,203
Thanks: 982
Thanked 2,267 Times in 1,544 Posts
Anything with the words "energy conserving" in the API information label is bad.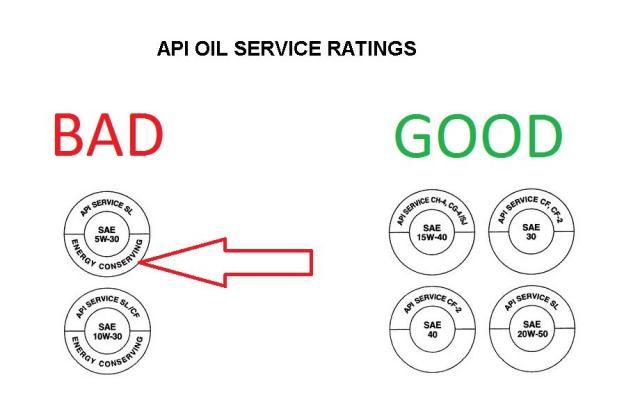 ---
Current Bikes ---->
- 1969 Indian MX125 -10-2009 to Present
- 2006 Star Virago - 05-2011 to Present
- 2014 Honda CTX1300 - 05-2015 to Present
Past Bikes -------->
-1973 Yamaha RD350
-1991 Harley Sportster 883 XL
-2000 Yamaha XV125
-2003 Piaggio Fly
-2004 Suzuki LS650
-2005 Boulevard C50 - 07-2008 to 5-2012
-2012 Vulcan 900 05-2012-05-2015
-2008 Yamaha FZ6 - 11-2008 to 04-2017t
Junior Member
Join Date: Jul 2016
Location: WV
Posts: 41
Thanks: 20
Thanked 0 Times in 0 Posts
I looked today and it indeed was energy conserving oil so I passed. Went with Mobile 1 15w-50 and a Napa Gold oil filter.
Super Moderator
Join Date: Jan 2005
Location: The VooDoo Lounge
Posts: 41,909
Thanks: 1,858
Thanked 3,424 Times in 2,464 Posts
Fine choice