VR Member
Join Date: Sep 2011
Location: North Georgia USA
Posts: 188
Thanks: 99
Thanked 43 Times in 37 Posts
StarTron Enzyme (Ethanol Fighter) Gas Additive...Anyone tried this?
---
I have some boating friends that love Star Tron. Here's a quote from the product's propaganda.

"In a boat, motorcycle, outdoor power equipment or other gas-powered equipment that is being used regularly, Star Tron® can help prevent phase separation that occurs from daily condensation. By neutralizing the electrical charges between water molecules in a process called de-ionization, Star Tron® prevents the water molecules from forming huge clusters large enough to form drops and settle, taking the ethanol with it to the bottom of the fuel tank. The octane rating and the combustion characteristics of the gas are protected, and the suspended water molecules are harmlessly eliminated along with the fuel."

Later in the material, it says the bonded water/ethanol in the bottom of the tank causes our bikes to run lean and reduces performance.

I use Sta-bil Red in every tank because my Vol hates ethanol. VRA members helped me adjust my carb and the bike runs MUCH better now. However, some places I ride have questionable E10 and another place only has E85 (Or that's what they say it is).

Thanks in advance for your input !
---
Because 2 wheels & a motor are a life long addiction !

2003 Volusia
81,000 Miles
73,000 Engine 1
8,000 Engine 2


Vol Tours:
2004-->13 Key West
2003-6 Daytona Beach
2003 Mexico Beach, Tampa
2004 Amelia Island
2006 Blueridge Pkwy
2006,13 Chicago
2012 Dallas

2006 Nomad 1600
---
Last edited by pingzing2; 02-23-2013 at

03:23 AM

. Reason: Fix typing error
Administrator
Join Date: Mar 2006
Location: Ludlow, MA
Posts: 14,352
Thanks: 735
Thanked 2,386 Times in 1,369 Posts
Stuff works phenomenal....use it in all my boats. Makes a huge difference.
---
"Life's journey is not to arrive at the grave in a well-preserved body, but rather to skid in sideways, totally worn out, shouting...Holy Crap - What a ride!"

2005 Suzuki C50 - 2003 HD Heritage Softail - 2010 Victory Cross Country
| | |
| --- | --- |
| The Following User Says Thank You to Capt Cruiser For This Useful Post: | |
Senior VR Member
Join Date: Jul 2008
Location: Second Star to the right, then straight on till morning.
Posts: 17,305
Thanks: 982
Thanked 2,278 Times in 1,554 Posts
It is one of the few 'miracle cure' additives out there that I WILL use. It not only does a great job of stabilizing blended fuel, it also goes a long way towards cleaning carbon out of the combustion chamber. A lot of 'tight' valves are the result of too much carbon, caused by ethanol blended fuels...
---
Current Bikes -->
-1969 Indian MX125 -10-2009 to Present
-2014 Honda CTX1300 - 05-2015 to Present
Past Bikes ----->
-1973 Yamaha RD350
-1991 Harley Sportster 883 XL
-2000 Yamaha XV125
-2003 Piaggio Fly
-2004 Suzuki LS650 - 04-2005 to 07-2008
-2005 Boulevard C50 - 07-2008 to 5-2012
-2012 Vulcan 900 - 05-2012 to 05-2015
-2008 Yamaha FZ6 - 11-2008 to 04-2017
-2006 Star Virago - 05-2011 to 06-2017
| | |
| --- | --- |
| The Following User Says Thank You to Skrapiron For This Useful Post: | |
Senior VR Member
Join Date: Aug 2012
Location: King, North Carolina
Posts: 397
Thanks: 70
Thanked 58 Times in 48 Posts
i just had a indie bike mechanic service my Vol and he said he adds it to all bikes brought in. He said it was one of the best additives on the market if you use blended gas. I advised I only used E-0 gas but he rattled off 2-3 other benefits. It was only $3 so no big deal. I guess my point is that he was REALLY high on this stuff and he has a good rep. TIFWIW
| | |
| --- | --- |
| The Following User Says Thank You to Vol4Life For This Useful Post: | |
VR Member
Join Date: Sep 2011
Location: North Georgia USA
Posts: 188
Thanks: 99
Thanked 43 Times in 37 Posts
Thanks everyone !

Looks like Walmart has it. Picking up a bottle today.
VR Member
Join Date: Jul 2012
Location: Eastern Washington/ Northern Idaho
Posts: 104
Thanks: 8
Thanked 13 Times in 9 Posts
Re: StarTron Enzyme (Ethanol Fighter) Gas Additive...Anyone tried this?
---
It is really good stuff! I work at NAPA, and we sell a crap ton of it. Keep an eye out though when you buy the stuff - not every store is selling the same concentrate. I noticed that a hardware store across the street from us was selling it at 2/3 my price and was kinds embarrassed till I saw it treated 1/2 as much gasoline (same sized bottle too)

The ones I sell treat 128 gallons.
| | |
| --- | --- |
| The Following User Says Thank You to Cooteboy For This Useful Post: | |
Senior VR Member
Join Date: Nov 2009
Location: Tri-States region of NYS
Posts: 951
Thanks: 23
Thanked 13 Times in 13 Posts
I've been using this for the entire time I've owned my bike. I add a bit to every fill-up........and Wally World by me has the 128 gal. treatment bottles.......LOVE the stuff!!

I even started adding it to my mower/snowblower gas.......can't say enuff good about it!!
---
2001 Volusia 800 "Skunk"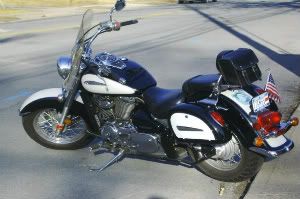 | | |
| --- | --- |
| The Following User Says Thank You to Renfield54 For This Useful Post: | |
Senior VR Member
Join Date: Mar 2006
Location: North Bend, WA
Posts: 2,301
Thanks: 71
Thanked 288 Times in 205 Posts
Many owners of vintage motorcycles switch to Startron as it reduces carbon buildup on the valves from stored gasoline, especially with E10. My vintage club has been using it for several year as the preferred additive. Stabil is okay, as an emulsifier it traps water into like bucky balls, Startron interacts with the water to keep them from forming balls so that it passes through the combustion chamber as vapor, thereby not as much residue on the valves.

The best thing you can do when storing a gasoline powered device is fill the tank before you store it. A full tank has reduced surface area and will not absorb as much water. A partially filled tank invites water. ie rust. If you are storing a bike for over 3 weeks, fill the tank and add Startron.

I am a believer that it is a superior product to emulsifiers like Stabil, but that with a full tank, both probably work okay. Since I have vintage bikes, I have chosen to use the slightly more expensive Startron.

Here are my notes from when I was researching it vs Stabil.
Star Tron contains a blend of enzymes vs emulsifiers.

The enzymes allow more oxygen to attach to fuel hydrocarbons so that they burn more completely. This translates into more power and better fuel economy. Engines start more easily and run more smoothly. Carbon deposits (unburnt fuel) are prevented. Harmful emissions (unburnt fuel) are significantly reduced.

The enzymes disperse moisture so that it can be removed while the engine operates; by breaking water molecules into tiny sub-micron-sized particles, they can be vaporized during the combustion process. You cannot 'burn' water nor can you magically make it disappear. Alcohol-based emulsifiers make this claim, but they're false. Emulsified fuel leads to carbon deposits that harm performance.

The enzymes also disperse debris such as varnish and gum into tiny particulates so that they too can be eliminated as the engine operates. They will remove existing carbon deposits.

Star Tron will stabilize fuel chemistry for up to 2 years, which is critical with ethanol-blended fuel that can begin to degrade in as little as 2 weeks.

Ethanol and gasoline do not & cannot chemically bond. Ethanol and water do chemically bond. If more than .5% water (by volume) enters the fuel, the water/ethanol mixture weighs more than the gas. So it drops to the bottom of the fuel tank, forming a distinct layer. This is phase separation. You can help prevent it by keeping the water content below .5%.

Star Tron will improve the octane of old, substandard or off-spec fuel. It can be used in any 2-cycle or 4-cycle engine fueled by gasoline. There is also a diesel fuel formula. For best results, it is to be used year-round, added at every fillup.
1. Naphtha is not an active ingredient in StarTron, it's the carrier to spread the active ingredients throughout the fuel. Comparing StarTron to any other fuel additive because they both contain mostly naphtha is like comparing beer to coffee because they both contain mostly water.
2. There a lot of problems with E10 that StarTron fixes. I will just address the most notable ones here. First, and of most concern is water control. Enzymes affect electrical surface charges of various target molecules. These are the bonds that hold water molecules together, the bonds that hold hydrocarbons together, and affect how the two coexist. Interfacial surface tension between water and hydrocarbons is the main concern and the culprit in water-related phase separation. Ethanol does not like gasoline, and it's not electrically bonded to it. It's just close enough to hydrocarbon's physical characteristics to stay dispersed. That means ethanol molecules are free-floating in the fuel. Gas is electrically neutral. On the other hand, ethanol and water are charged (the term is "polar") and they love each other. That's why ethanol will suck water right out of the air. The water bonds permanently to the ethanol, and being heavier than gas, it settles, taking the octane from the ethanol with it.
When it comes to water in the fuel, it is "how much and how large" that determines potential harm. Water does not exist in its textbook H2O formula. It's several to even hundreds of molecules form "clusters". StarTron reduces the water molecule's cluster size by accelerating the rate of proton exchange between water molecules, which lowers the cluster's surface tension and its repulsion from hydrocarbons. (Water and oil don't mix due to the electrical charge of water). Emulsifiers or detergents also work by altering the surface charge of their target molecules. The difference is the detergent (Stabil and other similar chemicals) bond water to the emulsifier, which typically forms a "micelle", which is a where the water rolls into a large drop and is surrounded by hundreds of detergent molecules that also bond to the hydrocarbon. Think about dish soap. The detergent releases the electrical charge of the food (protein) molecules from the dish and then because it wants to crawl away from the charged water, it rolls into a ball, and the detergent holds the ball in the water to be flushed away. That is an "oil-in-water" emulsion, also known as a micelle. It works the other way as well, where the water is repulsed and rolls up into a ball, and the emulsifier holds the water in suspension in the oil, known as the "Water-in -Oil" emulsion, or a "reverse micelle".
The reaction is over at that point, and the result is a much larger combination molecule. Water, when too high in quantity, or too large in molecular size, displaces fuel as a boundary layer lubricant between metal surfaces, which causes wear on pumps and close tolerance fuel system components. StarTron's impact on the water molecule is to reduce the cluster size to a size known as a colloid. That's so small it will stay in suspension without an emulsifier's chemical bond, at least for a while. This is why, during operation where there is some fuel movement, StarTron will act just like a detergent and move microscopic drops of water up into the fuel column where it is harmlessly burned off. However, the molecule size is not large enough to reduce lubricity, and it's really a very small amount of water being suspended. Once shut down, after a few minutes, the water will fall out of suspension, as it's not electrically bound to the gas. Here's another huge difference between enzymes and detergents. Enzymes never become part of the reaction. They are "catalysts". They initiate or accelerate chemical reactions, but release themselves from the reaction and start a new one, millions of times per second. Its takes only a few molecules to do what untold numbers of detergent molecules do. That's why Startron is over 99% carrier solvent.
Enzymes can also reduce surface tension in hydrocarbons, which allows finer atomization which allows faster reactions with oxygen, i.e. better combustion. That's what really puts StarTron head and shoulders over detergents. It's not just cleaning the fuel system, it's also catalyzing combustion. That prevents carbon deposits, too.
Storage stability is greatly improved and has been well documented in independent lab tests. However, the function has been extremely difficult to pinpoint the exact biochemical pathway. Best theory right now is that by reducing the electrical oxidation potential the absorption of atmospheric oxygen (polymerization) is retarded. Unlike with conventional chemical stabilizers, where they believe it works to stabilize fuel by terminating end chain radicals by donating a nitrogen atom, the enzymatic process is not fully understood here. There is no nitrogen atom, so StarTron does not add any "outside" atom or molecule to the radical hydrocarbon. It's done by altering the hydrocarbon's tendency to like oxygen.
Startron also reduces existent gums, which may be involved in precipitation of solids in stored gas. This is also notable in reducing combustion chamber deposits and gums on fuel system parts.
3. Please don't be offended, but I don't know what research led you to believe that enzymes can't be suspended in petroleum, although it sounds very familiar to the laments of a conventional chemical based competitor that has made the same statement. The fact is, the first use of biocatalysts (enzymes) in fuel dates back to 1959, by Phillips Petroleum. There are many patents and literally, I have read at least 200 scientific (out of thousands) research papers on enzymes in petroleum for various applications. The entire soil reclamation industry (cleaning up fuel spills at gas stations) is built on enzymes suspended in petroleum carriers, and I personally was selling these in the early 1980's. Also, diesel fuel is famous for growing fungi and mold, which is why all the additive companies sell fuel biocides. The organisms secrete enzymes to break down the petroleum for food. Fact is, enzymes are easily suspended in petroleum and nature has been doing it for hundreds of millions of years. Its enzymes that broke down organic matter to form petroleum in the first place.
4. You are adding a few drops of Naphtha per gallon. It won't affect the flash point either way.
5. The restoration of phase-separated fuel is a tough subject to address. To most people it's when water and some alcohol drop to the bottom. To the fuel pros, it's when there is enough water to trigger an instantaneous and near complete fallout of ALL the alcohol, ruining the fuel completely. Given that water will separate from fuel, even e-10, you can have water pooled on the bottom with some ethanol, but the fuel can still have ethanol in it as well. And this is readily restored by adding Startron and operating the vehicle. However, if there is a large amount of water and it's been really well shaken through the entire fuel tank, and all the alcohol has tripped out, then no, you can't put that water and alcohol back into suspension just by adding Startron. However, the engine companies say "dump" the fuel. That's not practical, and generally not necessary. Add fresh gasoline along with Startron. That will soak up .5% water by volume of the new fuel, and the Startron will restore the combustion characteristics of the old fuel. It generally takes a couple of fill ups to get all the water out, and requires some agitation. We have been successful at this for several years because most fuel is not completely ruined. If total phase separation occurred often, we would have every vehicle and vessel in the southeast dead (in the water) from pumping water and ethanol into their engines. It's a legitimate problem, but not that common in its extreme.
6. Initial fuel quality plays a huge role in how long treated fuel will last. Refinery samples we have tested from California were found to have two to three times the stability of fuel made in the Gulf. The oxidation tests with Startron show much larger percentages of increases in stability with Gulf fuel, which is to be expected. If the fuel is initially so stable that it doesn't oxidize on its own, an anti-oxidant isn't of much use.
So what you start with determines how long it can go after treatment. With straight gas, you could get two years out of stored fuel. However, E-10 is not as stable. We have seen excellent numbers in the lab, ranging from 60% increases to as high as 300%. However, there is a caveat. The ASTM test for gas oxidation is NOT approved for Ethanol fuels, so the numbers may not be as precise as they would be in conventional gas. We are satisfied with one year of storage in a properly sealed fuel system, when treating dry, fresh gas. Always store the tank full to reduce oxygen contact space, and if you know it's going to be a winter-long storage, use a double dose of StarTron in E-10 for extra security.
Startron has reduced rust caused by water in fuel in lab tests, and has a great history in the marine industry preventing corrosion. Ethanol, when sitting with water for long periods of time can attack metals, so we improve that aspect of the fuel.
Startron reduces existent gums in the gas, which reduces gum deposit formation, another problem with E10.
StarTron improves combustion, which restores lost fuel economy due to E10's 3% lower BTU value.
StarTron is effective in helping fight the cold-start problem caused by vaporization issues of ethanol.
---
Mhac nan con, a Wescalero Rider
My path through life - Two roads diverged in a wood, I took the dead end by mistake. Then I got lost, but I had a great time.
"Those who expect to reap the blessings of freedom, must, like men, undergo the fatigues of Supporting it."
"Moderation in temper is always a virtue; but moderation in principle is always a vice." Thomas Paine