Senior VR Member
Join Date: Jun 2007
Location: Dunedin, FL
Posts: 2,585
Thanks: 148
Thanked 373 Times in 276 Posts
Senior VR Member
Join Date: Nov 2007
Location: Horse Shoe Bend, Arkansas.
Posts: 2,857
Thanks: 2
Thanked 293 Times in 264 Posts
Welcome from the Arkansas Ozarks
Welcome!

Sent from my ADR6410LVW using Motorcycle.com App
---
Central Kansas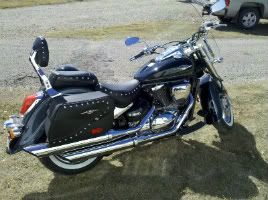 1975 Kawasaki F9 350
1978 Honda Hawk II
2011 Suzuki C50T
VR Member
Join Date: Nov 2012
Location: Eastern Europe, Romania, Arad County, Arad City
Posts: 194
Thanks: 267
Thanked 40 Times in 27 Posts
Quote:
hi all, name is mike and as stated in the title i am from pa.

Figure i should probably tell you a little more about myself. I have an 04 volusia that i picked up this past spring. It only had 4000 miles on it(it has alot more on it now).

I have been riding a motorcycle since i got my license(16 years ago). I never really had that first car, i got a motorcycle instead and rode it rain or shine. It was a 1980 honda cb450. After some time in korea with the army i couldn't bring myself to take it back off my pops(he had rode it the entire time i was away) so i signed the title over to him and went out and bought a 1992 cb750 honda nighthawk. It was hard to afford even that at the time but, i loved that bike. It had enough power to get a little sporty on the highway but it wasn't so much that i would get myself into any trouble with it. It is now in my basement waiting for me to find the time to give it a little attention.

I had been lusting after a volusia since i saw one for the first time on the show room floor right after they first came out. I wanted one then but the wife was about to have our first and there just was no way to find the money for it. It took me a long time to finally get what i wanted but i could not be happier with it.
welcome from Transilvania , RO , and enjoy it
Super Moderator
Join Date: Jun 2005
Location: Gettysburg, Pa
Posts: 3,053
Thanks: 530
Thanked 888 Times in 571 Posts
Greetings
---
---
Live to ride, ride forever! We support our troops! God Bless Them.
Pa/Md/WV ABATE member
2005' C50T (sold)
2004' FLHTI/HD Electra Glide w/huge chrome wheels.
duglaura
Senior VR Member
Join Date: Feb 2008
Location: Delaware, Wilmington
Posts: 5,240
Thanks: 1,337
Thanked 427 Times in 259 Posts
Welcome From The First State!

My 1st bike was a 1973 CB450 ... it was mid-size ... 750 was a lot of bike back then.

Watch the Schedule A Ride section ... plenty of DE/PA/MD/VA/NJ rides each year.
---
"Ah Say... Ah Say... Saw an old high school classmate the other day for 1st time in years. Introduced me to his trophy wife. Guess he did not take 1st place."

2005 C50 Black... 2007 to 2015
2007 Kawasaki Vulcan 1600 ... 2015 to ?
VR Member
Join Date: Apr 2012
Location: Perth Australia
Posts: 94
Thanks: 0
Thanked 6 Times in 6 Posts
Welcome mate from Australia
---
2009 M50 boulevard
Vance Hines pipes
G-man industries
Hyper charger
Johns Forward controls & 2 inch lowering kit
Senior VR Member
Join Date: Aug 2005
Location: PA, Hellertown
Posts: 1,111
Thanks: 438
Thanked 368 Times in 236 Posts
welcome from Pa, hope to meet you on one of the rides/rallies!
---
1979 - 1979 1/2 1973 honda cb 350
1988-1990: 1988 hd 883
2005-2010: 2003 volusia -black
2010-? : 1998 h-d road king anniversary classic

"Born To Run"
Senior VR Member
Join Date: Mar 2012
Location: Indiana
Posts: 10,897
Thanks: 1,204
Thanked 1,199 Times in 1,044 Posts
Welcome from Indiana.
I also had a nighthawk, they were a sweet bike.I kind of miss mine also.
---
I can head East or West, it doesn't matter as long as it's on 2 wheels.