New Member
Join Date: Nov 2012
Location: Iceland, Reykjavik
Posts: 1
Thanks: 0
Thanked 0 Times in 0 Posts
Iceland
---
Hi, guys.
I´m from Iceland and recently bought a 2001 Volusia.
I love this bike.
I pretty sure I will be spending alot of time on this forum this winter, ( not much riding here in the winter,
)
But hope I will be able to ride some in the next months.
Happy to have found this place.
greetings from the land of fire and ice.
Welcome!

Sent from my ADR6410LVW using Motorcycle.com App
---
Central Kansas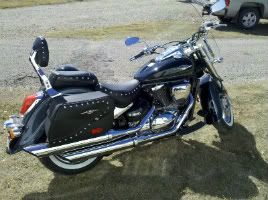 1975 Kawasaki F9 350
1978 Honda Hawk II
2011 Suzuki C50T
Senior VR Member
Join Date: Mar 2012
Location: Indiana
Posts: 9,635
Thanks: 1,127
Thanked 1,139 Times in 986 Posts
Welcome, our newest international friend
---
I can head East or West, it doesn't matter as long as it's on 2 wheels.
Senior VR Member
Join Date: May 2011
Location: The Big Bend of Texas
Posts: 1,541
Thanks: 110
Thanked 181 Times in 164 Posts
Welcome from Texas
---
2007 M50 bobber; Iso grips and kury pegs,PC III USB, HK Strippers Black, Naked Jugs, Side Mount Plate, Flame Grill with Spikes, Brake Light Modulator, 12v Power Outlet, Quiet Kore Baffles, Air horn, Dual head lights, Johns forward controls, Webslinger speedo.
Welcome from Tennessee
---
----------------------------
2000 Suzuki Intruder LC 1500
Senior VR Member
Join Date: Jun 2007
Location: Dunedin, FL
Posts: 2,582
Thanks: 147
Thanked 372 Times in 275 Posts
Senior VR Member
Join Date: Sep 2009
Location: Calgary, Alberta, Canada
Posts: 8,830
Thanks: 755
Thanked 1,153 Times in 889 Posts
EH!
<---<<
My mom's Icelandic.
---
"Men are like steel, when they lose their temper, they lose their worth." Chuck Norris
VR Member
Join Date: Oct 2011
Location: Redmond WA
Posts: 278
Thanks: 10
Thanked 32 Times in 32 Posts
Welcome from Middle Tennessee...
---
Mike "Hawg" Sellers
**Judge me if ya have to but keep the verdict to yourself!**