Junior Member
Join Date: Nov 2012
Location: New York
Posts: 27
Thanks: 1
Thanked 3 Times in 3 Posts
New to the forum!
---
Just wanted to make a short entry to say hello to all the members of the forum. I just registered a few minutes ago and am excited to see what these pages have to offer.
My name is Diego and I started riding on December of 2011. I bought myself a Honda Rebel as a Christmas present to myself, as I had been dying to start riding for about 3 years prior. Just this past June, I upgraded to my current bike, a 2006 C50 Boulevard and I am in love all over again. The Rebel was a nice ride to start on, but after cruising around with a couple of friends and having trouble keeping up, I decided it was time for an upgrade!
I recently started making some upgrades to my C50 to try and make it my own, and I have to say that not much comes close to the pleasure of sitting down and working on a project for the bike. Since I purchased it, I have added some Vance and Hines Cruzers and a DynoJet Power Commander to the bike and have noticed a decent increase in performance. I've also added some ISO grips and a passenger backrest for the girl friend.
My latest addition is the Memphis Shades Batwing fairing and now I have to say that the old girl is starting to look the way I want her to.
I would love to now install a sound system on the bike, but this will be a project for the months to come. If anyone has pictures, I would love to see some of the sound systems that members have installed on their bikes so I can get some ideas and hopefully get started on getting something done on my bike as well!
I live in the New York/Long Island area, so if anyone has any suggestions as to Custom motorcycles shops that I could visit and shop around in, that would be much appreciated as well
Well, I hope this introduction serves a little bit to introduce myself as I had hoped and maybe be a bridge to making some new friends in the process.
Thanks everyone, and happy riding!
-Diego
Senior VR Member
Join Date: Jun 2007
Location: Dunedin, FL
Posts: 2,585
Thanks: 148
Thanked 373 Times in 276 Posts
Senior VR Member
Join Date: Sep 2009
Location: Calgary, Alberta, Canada
Posts: 8,895
Thanks: 770
Thanked 1,154 Times in 890 Posts
EH!
<---<<
Have fun making it your own!
---
"Men are like steel, when they lose their temper, they lose their worth." Chuck Norris
Senior VR Member
Join Date: Apr 2012
Location: Aurora, CO
Posts: 973
Thanks: 197
Thanked 136 Times in 129 Posts
Greetings from CO
---
2008 Burgman 400 '08-'15
2003 Volusia Annie '12-'15, De-badged
2006 Vulcan 2000 Classic '15-Current
IBA# 46706
Senior VR Member
Join Date: Dec 2010
Location: Luling, Louisiana
Posts: 1,952
Thanks: 32
Thanked 209 Times in 204 Posts
Welcome!
---
2009 C50SE
Make crime pay. Become a lawyer.
New Member
Join Date: Jun 2011
Posts: 0
Thanks: 24
Thanked 279 Times in 219 Posts
Welcome from MA. You'll be limited on your selection of amplifiers because of the physical size and lack of locations to put one. The best amp on the market right now for a bike is the Rockford Fosgate Punch amp.
---
Max055
Welcome from Tennessee
---
----------------------------
2000 Suzuki Intruder LC 1500
Senior VR Member
Join Date: Oct 2004
Location: Ct,Columbia
Posts: 14,443
Thanks: 1,774
Thanked 3,035 Times in 1,927 Posts
Ct says welcome...a few here from Long Island (I grew up in Hicksville) so hope to see you at one of our get togethers..ride safe and enjoy.
---
Whats the big hurry...slow down and enjoy the ride!
Welcome!

Sent from my ADR6410LVW using Motorcycle.com App
---
Central Kansas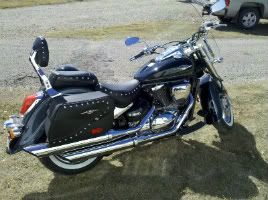 1975 Kawasaki F9 350
1978 Honda Hawk II
2011 Suzuki C50T