New Member
Join Date: Sep 2012
Posts: 1
Thanks: 0
Thanked 0 Times in 0 Posts
Hello for VA
---
i just bought my first bike and i'm pretty excited about it. The bike came from California and i understand it has some kind of emissions/ EPA deal on the carb. Does anyone know how i can by-pass it( ethenol is a ***** on bikes) or if there is a kit i can buy?

02 805cc Volusia


Chris
Senior VR Member
Join Date: Jun 2007
Location: Dunedin, FL
Posts: 2,585
Thanks: 148
Thanked 373 Times in 276 Posts
Senior VR Member
Join Date: Sep 2008
Location: MD. Pasadena
Posts: 2,712
Thanks: 107
Thanked 187 Times in 153 Posts
Welcome from Maryland, don't worry, with all the knowledge around here, someone will be on soon to help out.
---
2007 Yamaha Stratoliner
Chuck
Member# 7031
Senior VR Member
Join Date: Mar 2012
Location: Indiana
Posts: 10,572
Thanks: 1,187
Thanked 1,186 Times in 1,031 Posts
welcome from Indiana.
I'm sure your answer will show up soon.
---
I can head East or West, it doesn't matter as long as it's on 2 wheels.
Senior VR Member
Join Date: Aug 2010
Location: Duffield,VA
Posts: 3,872
Thanks: 250
Thanked 725 Times in 647 Posts
Another welcome from Virginia.
---
Junior Member
Join Date: Sep 2011
Location: Hampton Roads, VA
Posts: 22
Thanks: 2
Thanked 2 Times in 2 Posts
Welcome aboard....where in VA are you?
---
"A man who has nothing which he is willing to fight for, nothing which he cares more about than he does about his personal safety, is a miserable creature who has no chance of being free, unless made and kept so by the exertions of better men than himself." - John Stuart Mills
Senior VR Member
Join Date: Oct 2010
Location: Charleston, WV
Posts: 367
Thanks: 116
Thanked 59 Times in 53 Posts
Welcome from Charleston, WV!
---
Donn
2009 Black Cherry C50 Boulevard - Current
2009 Green/White C50 Boulevard SE - Totaled by a Tailgater
Senior VR Member
Join Date: Feb 2007
Location: Laurel, MD
Posts: 1,033
Thanks: 36
Thanked 85 Times in 67 Posts
welcome from Maryland, also
---
Welcome!

Sent from my ADR6410LVW using Motorcycle.com App
---
Central Kansas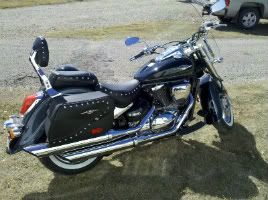 1975 Kawasaki F9 350
1978 Honda Hawk II
2011 Suzuki C50T
VR Member
Join Date: Sep 2012
Location: Virginia beach
Posts: 73
Thanks: 3
Thanked 2 Times in 2 Posts
another welcome from Va! (Va Beach)
---
-Shawn-
2002 Suzuki Volusia