VR Member
Join Date: Jul 2012
Posts: 54
Thanks: 4
Thanked 2 Times in 2 Posts
Pegs
---
Anybody have some nice pegs for crashbars I dont wanna spend a bunch just thought someone would have some they would like to get rid of cheap
Senior VR Member
Join Date: Aug 2012
Location: Erie, Pa.
Posts: 1,718
Thanks: 310
Thanked 351 Times in 267 Posts
Define cheap, I don't have any I can part with but recall paying somewhere in the neighborhood of 20 or 30 for mine including shipping. They are not the fanciest of things but nice chrome and still in good shape after 30k+miles.
Bellow is a link to the same ones I have just under $26 inc. shipping.
Suzuki Volusia Highway Pegs Chrome | eBay
plenty of other nice ones for under $40
Senior VR Member
Join Date: May 2008
Location: Silverdale, WA
Posts: 1,945
Thanks: 124
Thanked 328 Times in 263 Posts
Nice looking pegs for only $26 delivered and still looking good after 30k+ miles is good to know.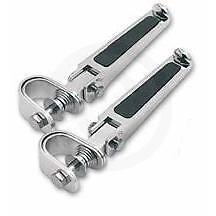 ---
The United States of America, founded on the principle that "all men are created equal; with unalienable rights; that among these are life, liberty, and the pursuit of happiness"
Happiness
2007 Red & Black C50
Happiness
---
Last edited by Two Red Ryders; 11-05-2012 at

01:29 PM

.
Senior VR Member
Join Date: Sep 2012
Location: S Carolina
Posts: 415
Thanks: 107
Thanked 66 Times in 50 Posts
I have the same pegs as listed above, installed them last week. Very nice chrome for the $ and function well too